Roster | Transactions | Front Office | Mission | Stats | Team History
Knights in the Pros | Knights in College | Alumni
About the Knights
1990 - 1991 - 1992 - 1993 - 1994 - 1995 - 1996 - 1997 - 1998 - 1999
2000 - 2001 - 2002 - 2003 - 2004 - 2005 - 2006 - 2007 - 2008 - 2009
2010 - 2011 - 2012 - 2013 - 2014 - 2015 - 2016
Team Highlights
Individual Honors
Career Single Season Leaders
Career Single Season Leaders (wood bat)
Single Season Leaders by Year
Team Season Totals by Year
Coaches Listing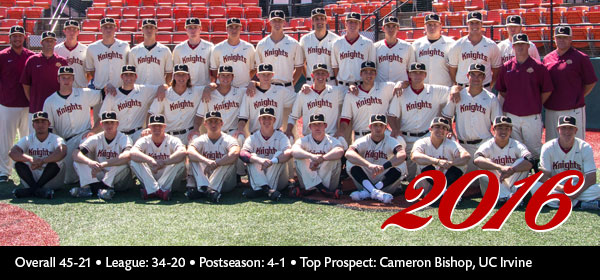 The Knights won their 4th WCL title in the team's 10th season in Corvallis. They qualified for the postseason by winning the inaugural WCL first-half South title by going 18-9 edging Yakima Valley by three games. Corvallis would later meet the Pippins in the first-round of the playoffs where they swept the South second-half champs to advance to their WCL-best 8th West Coast League Championship Series. The Knights matched up with Bellingham in the WCLCS and beat the Bells 2 games to 1 in a thrilling three-game series that finished with a 6-4 home win before a crowd of 1,112. Summer attendance at Goss Stadium was record breaking as the Knights ranked second in WCL attendance and once again set new franchise attendance marks, eclipsing 50,000 in total attendance for the very first time. Corvallis total attendance for the season was 53,703 for a per game average of 1,534, both team records.
Highlights:
Knights capture first-half South title with 18-9 mark and finish 34-20 overall, two games better than Yakima Valley.
Covallis wins 28 home games going 21-9 in WCL play at Goss Stadium, including playoffs, and 7-0 in nonconference games.
Corvallis lefty ace Cameron Bishop of UC Irvine named Top Prospect at the WCL All-Star Game by MLB scouts; Knights team MVP Kyle Nobach of Oregon State earns WCL All-Star Game MVP honors.
Closer Chase Kaplan of Western Nevada (Kansas commit) leads team in saves with 10, earns honorable mention all-WCL honors and is named the #10 WCL prospect by Baseball America.
Bishop of UC Irvine is named the Top Prospect in the West Coast League by Perfect Game and the #2 WCL prospect by Baseball America. Perfect Game names southpaw Hazahel Quijada of UC Riverside its #10 WCL prospect.
Science, Engineering & Art Day game draws record opening day crowd of 3,381 in non-conference contest with the Portland Sea Dogs.
Outfielder Kyle Nobach of OSU earns first-team All-WCL honors. Nobach's Beaver teammates Andy Atwood (shortstop) and Zak Taylor (catcher) earn second-team All-WCL recognition. Cameron Bishop of UCI also earns second-team All-WCL honors.
Oregon State's Taylor (.309), Atwood (.308) and Nobach (.303) lead Corvallis in WCL batting, the only three regular Knights to hit above .300. Atwood leads the club in overall hitting with a .323 average.
Knights pitchers Chris Burkholder of Dartmouth and Trenton Dupre of Washington State earn the final two WCL Pitcher of the Week honors. Both senior-to-be hurlers shine in the postseason. Burkholder finishes with a team low ERA of 1.44 and Dupre is named the team's Top Pitcher as the southpaw goes 4-0 with 6 saves and a 0.52 ERA over 16 appearances and 34.1 innings pitched.
Andy Atwood of OSU earns first WCL Player of the Week; first baseman Roman Garcia of University of San Diego earns two WCL Player of the Week honors.
Roman Garcia of USD delivers historic game-winning two-run homer in WCLCS finale at Goss Stadium surpassing epic divisional-round Goss game-winning blasts by first basemen Jim Murphy (Washington State, 2007) and Kevin Kline (Dixie State, 2014).
Corvallis pitching staff leads WCL in team ERA posting a league-low mark of 2.65 with 10 pitchers with sub 3.00 league ERAs including Dupre (0.64), Quijada (0.83), Bishop (1.45), Burkholder (1.57), Grant Goodman of San Francisco (2.01), Aaron Pope of Dixie State (2.07), Ryley Widell of Washington State (2.17), Jacob Wong of Grand Canyon (2.62), Kaplan (2.70) and Jacob Fricke of Western Oregon (2.88).
Frosh southpaw Fricke leads the club in innings pitched with 58.2; and ties for the team lead in wins with lefty Aaron Pope with 5.
Knights earn prestigious Jim Dietz Team Sportsmanship Award.
Thirteen Knights alums appear in the major leagues in 2016, including two in Nippon Professional Baseball in Japan (Matt Hague and Brent Morel).
Knights record franchise's 1,000 win July 6 at home vs. longtime rival Wenatchee.
Corvallis 34 league regular-season wins increase its tweleve-year WCL total to 386, the most in the league. Wenatchee ranks second with 343.
WCL champions.