Roster | Transactions | Front Office | Mission | Stats | Team History
Knights in the Pros | Knights in College | Alumni
About the Knights
1990 - 1991 - 1992 - 1993 - 1994 - 1995 - 1996 - 1997 - 1998 - 1999
2000 - 2001 - 2002 - 2003 - 2004 - 2005 - 2006 - 2007 - 2008 - 2009
2010 - 2011 - 2012 - 2013 - 2014 - 2015 - 2016
Team Highlights
Individual Honors
Career Single Season Leaders
Career Single Season Leaders (wood bat)
Single Season Leaders by Year
Team Season Totals by Year
Coaches Listing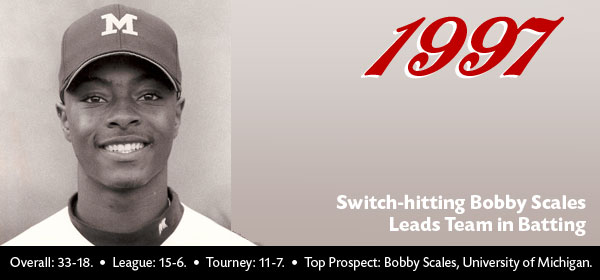 The Knights begin adding more collegiate players. University of Michigan's Bobby Scales capture's the team batting title with a .379 average. The Knights repeat as City League champions. The team goes undefeated through the playoffs and beats the Portland Wildcats 8-3 in the MABL championship game. For a third consecutive year, the Sacramento Sultans oust the Knights from the U.S. Open Baseball Tournament in Gardnerville, Nevada. This time the Knights blow a 7-1 lead late in the game and go home 2-1 in pool play. The Knights enter their first big money International tournament, the Kamloops International Baseball Tournament. The club gets off to a good start beating the Tacoma Timbers 4-3 (PIL #1 seed), but drops its next two games to Taylor Electric and Kelowna Grizzlies.
Highlights:
Knights score 22 runs on 25 hits in a 22-3 shelling of the Reno Diamonds in Reno, Nevada.
Several active collegiate players join the roster including pitcher Matt Gunderson (Lower Columbia College) who posts a 2.72 ERA, goes 4-2, collects 4 saves and draws scouts attention.
Brian Graham of University of Portland develops as a pitcher while handling a starting outfield position. Graham sets single-season records for hits (68) and at bats (197).
MABL champs.