Roster | Transactions | Front Office | Mission | Stats | Team History
Knights in the Pros | Knights in College | Alumni
About the Knights
1990 - 1991 - 1992 - 1993 - 1994 - 1995 - 1996 - 1997 - 1998 - 1999
2000 - 2001 - 2002 - 2003 - 2004 - 2005 - 2006 - 2007 - 2008 - 2009
2010 - 2011 - 2012 - 2013 - 2014 - 2015 - 2016
Team Highlights
Individual Honors
Career Single Season Leaders
Career Single Season Leaders (wood bat)
Single Season Leaders by Year
Team Season Totals by Year
Coaches Listing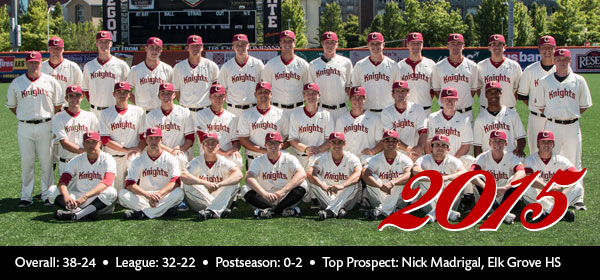 Corvallis streak of eight straight division titles was snapped, but the Knights did earn the league's wild card berth and made their ninth consecutive WCL playoff appearance. The Bend Elks not only put an end to the Knights division title streak by capturing the South, but the Elks bounced its long-time rival from the postseason by sweeping the Knights in the first-round of the WCL playoffs. Corvallis had its struggles versus the Elks all season. Bend, who posted the league's best regular-season record and won their first WCL crown, beat Corvallis 10 out of 11 contests. After starting the season 7-14, the worst WCL start in team history, Corvallis stormed back to go 25-8 over its final 33 WCL games to finish 32-22 in league and earn a spot in the postseason. Attendance at Goss Stadium was record breaking as the Knights ranked second in attendance in the West Coast League and set new franchise attendance marks. Corvallis total attendance for the season was 49,443 for a per game average of 1,498, both team records. The team's regular-season per game average was 1,514.
Highlights:
Knights win 23 home games going 17-10 in WCL play and 6-0 in nonconference games.
Corvallis ace Slater Lee of Cal Poly starts the 2015 WCL All-Star Game at Joe Martin Field in Bellingham. Knights right-hander Ryan Walker of Washington State finishes the game to earn the save in the South's 3-0 win. Knights coaches Brooke Knight, Connor Lambert and Dane Lund make up the South coaching staff.
First-team all-WCL utility man Nick Madrigal of Elk Grove High School, a frosh-to-be at Oregon State, sets the West Coast League and Knights single-season steals record with 40 stolen bases. Corvallis leads the WCL in stolen bases with 146.
Closer Harrison McGhee of Concordia leads team in saves with 8 and earns second-team all-WCL honors. McGhee strikes out 23 over 18.1 innings pitched and posts a 0.98 ERA.
Ryan Walker and Nick Madrigal rank as the No. 7 and No. 8 pro prospects in the West Coast League, respectively, as rated by Baseball America.
10-day signee Emilio Alcantar of Linn-Benton CC earns spot on club and leads Knights in batting average (.312), at bats (189), hits (59) and RBI (32).
Outfielder Jes Staples of Bellarmine ties team single-season walks mark with 36 bases on balls.
Corvallis annual Oregon State Credit Union fireworks display shoots on July 4th for the first time as the Knights vs. Victoria HarbourCats July 3rd contest goes 17 innings. The Knights win 4-3 and the fireworks show starts after midnight.
Knights pitchers Dakody Clemmer of Central Arizona and Slater Lee toss back-to-back 1-0 shutouts vs. Kitsap at Goss Stadium on July 9 and 10.
Eleven Knights alums appear in the major leagues in 2015, including San Francisco Giants Matt Duffy, Josh Osich and Andrew Susac.