Roster | Transactions | Front Office | Mission | Stats | Team History
Knights in the Pros | Knights in College | Alumni
About the Knights
1990 - 1991 - 1992 - 1993 - 1994 - 1995 - 1996 - 1997 - 1998 - 1999
2000 - 2001 - 2002 - 2003 - 2004 - 2005 - 2006 - 2007 - 2008 - 2009
2010 - 2011 - 2012 - 2013 - 2014 - 2015 - 2016
Team Highlights
Individual Honors
Career Single Season Leaders
Career Single Season Leaders (wood bat)
Single Season Leaders by Year
Team Season Totals by Year
Coaches Listing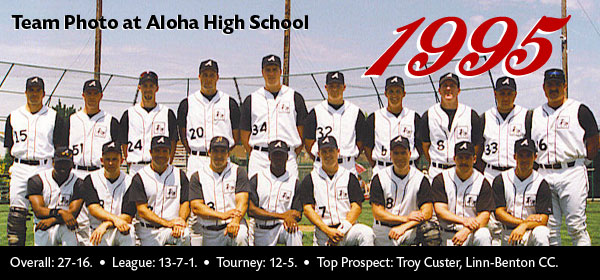 The Knights enter their first U.S. Open Baseball Tournament in Gardnerville, Nevada. The team delivers arguably its best tourney performance to date by placing second in a very competitive field. The team sweeps its pool (3-0) and beats the San Francisco Seals 15-11 in a semi-final match before losing to the Sacramento Sultans 9-3 in the championship game. Six Knights are All-American selections. The Knights face Taylor Electric in the Rose City Invitational championship game after winning its first four Rose City contests. Taylor Electric's 14-6 victory halts a streak of 14 consecutive Rose City victories and the Knights place second. Giving back to the community, the Knights host a charity baseball doubleheader and generate $6,900 for the Parry Center for Children.
Highlights:
Knights place 2nd in the U.S. Open Baseball Tournament.
Gerald Bolden, Jeff Hammack, Randy Johnson, Don Nichols, Dan Segel and John Sipple are All-American selections. Segel hits .500 (9 for 18), blasts 4 homeruns and collects 9 RBI. Rich Sermone hits .474 (9 for 19), smashes 2 homers and collects 7 RBI and is mysteriously left off the All-American team.
Jeff Post shuts out the Kelowna Grizzlies 4-0 in the 1995 PIL Tournament in Kelowna, Bristish Columbia. Knights go 1-1 losing to the Anchorage-Alaska Glacier Pilots 4-1.
Knights split the Parry Center for Children charity twin-bill with the Tacoma Timbers at Aloha High School. Game one goes to the Knights 4-3 when Randy Johnson hits a dramatic two-out, two-run, walk-off homerun.