Roster | Transactions | Front Office | Mission | Stats | Team History
Knights in the Pros | Knights in College | Alumni
About the Knights
1990 - 1991 - 1992 - 1993 - 1994 - 1995 - 1996 - 1997 - 1998 - 1999
2000 - 2001 - 2002 - 2003 - 2004 - 2005 - 2006 - 2007 - 2008 - 2009
2010 - 2011 - 2012 - 2013 - 2014 - 2015 - 2016
Team Highlights
Individual Honors
Career Single Season Leaders
Career Single Season Leaders (wood bat)
Single Season Leaders by Year
Team Season Totals by Year
Coaches Listing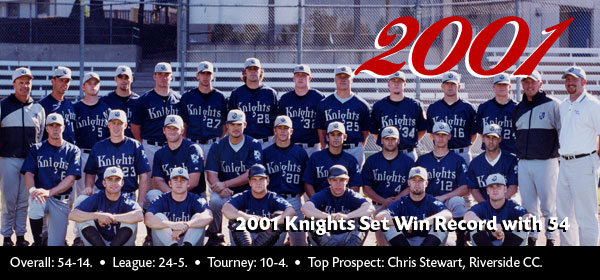 The Knights 2001 campaign was its finest as the club posted a record 54 wins and for the second consecutive year posted the league's best record (24-5) and won its division. In addition, the Knights fielded 9 first-team and 4 second-team All-PIL selections and featured the league's MVP - Chris Stewart. The club's third year in the PIL was highlighted by a 17-game win streak and a series victory over the Humboldt Crabs. Despite all the league accolades and its great record, the Knights season ended in disappointment for a second straight year at the hands of the Everett Merchants. The Merchants denied the Knights a trip to Wichita by beating them in back-to-back PIL championship games. The losses to the Merchants were disappointing, but they didn't erase the Knights most memorable season.
Highlights:
Chris Stewart of Riverside CC is named PIL MVP. Stewart throws out 21 base runners while hitting .342 with 5 HR and 36 RBI. Right after the season, Chris signs with the Chicago White Sox.
Mike Gits is named team co-MVP for his stellar performance as the team's closer. Gits records a franchise record 17 saves and doesn't blow a single save while posting a 1.86 ERA.
Outfielder Matt Allen of University of Portland, shortstop Eddie Cornejo of Riverside CC, second baseman John Otness of University of Washington, first baseman Joe Gerber, designated hitter Travis Wong of Texas A&M, Stewart, pitcher Matt Kosderka, pitcher Tim Petke of USC and Gits are named First-Team All-PIL.
Matt Allen hits .360 and hammers 24 doubles to shatter the club's doubles single-season record.
Sophomore third baseman Travis Hanson of University of Portland breaks the team's at bat record with 227 as he hits .308 with 19 doubles, 3 HR and 37 RBI.
Joe Gerber and Travis Wong form the league's most offensive first baseman tandem as Gerber leads the club in hitting and HRs and Wong in RBI. Gerber hits .390 with 9 HR and 46 RBI while Wong hits .301 with 8 HR and 51 RBI.
The Knights' double play combo of Eddie Cornejo and John Otness are both steady and spectacular. Cornejo (ss) and Otness (2b) post .983 and .976 fielding percentages with 171 and 102 assists, respectively.
Eight Knights hit over .300: Gerber .390, Allen .360, Dave Schoppe .351, Stewart .342, Brian Barnett .333, Mark Calkins of Indiana .329, Hanson .308 and Wong .301.
Eight Knights post ERAs under 3.00: Petke 1.47, Jeff Petersen of University of Washington 1.64, Gits 1.86, Jared Powell 2.17, Tucker Urdahl 2.66, Mike Swindell of Riverside CC 2.70, Brian Huck of University of the Pacific 2.78 and Justin Ballweber of University of Portland 2.95.
Tim Petke emerges as the club's staff ace. The right-hander goes 7-1 and his 1.47 ERA sets a new single-season mark.
Matt Kosderka is the staff workhorse logging 76 2/3 innings on his way to a 8-1 record and 3.17 ERA.
Aloha wins the Portland Semi-Pro Baseball Tournament held at Sckavone Field and Walker Stadium by sweeping through the field (5-0) and outscoring its opponents 43-9.
Dave Schoppe showcases his left-handed power stroke hitting .351 with 7 HR and 33 RBI in 77 at bats.
Knights take three of four from the Humboldt Crabs at Arcata Baseball Park to register its first series victory vs. the Crabs.
David Hixson of Gonzaga records a save the weekend before the MLB draft, gets drafted in the 28th round by the San Francisco Giants and signs.
Knights go 5-1 on Southern California trip, which includes series wins vs. the San Diego Stars, Orange County Scorpions and North County Waves
Knights place 3rd at Kamloops International Baseball Tournament. Eddie Cornejo named KIBT "Top Hitter".
Aloha posts top PIL record at 24-5.
The Knights register a franchise best 54-14 overall mark.
PIL South champs.