Roster | Transactions | Front Office | Mission | Stats | Team History
Knights in the Pros | Knights in College | Alumni
About the Knights
1990 - 1991 - 1992 - 1993 - 1994 - 1995 - 1996 - 1997 - 1998 - 1999
2000 - 2001 - 2002 - 2003 - 2004 - 2005 - 2006 - 2007 - 2008 - 2009
2010 - 2011 - 2012 - 2013 - 2014 - 2015 - 2016
Team Highlights
Individual Honors
Career Single Season Leaders
Career Single Season Leaders (wood bat)
Single Season Leaders by Year
Team Season Totals by Year
Coaches Listing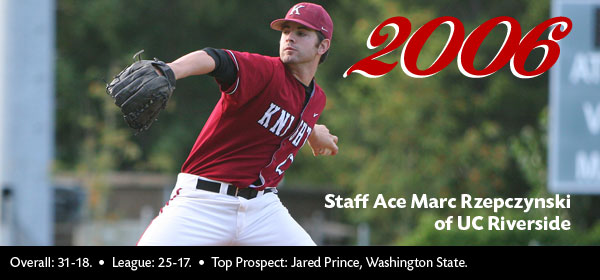 The Knights final season at Mt. Hood CC featured a valiant second-half effort that nearly put the team in its first WCCBL Championship Series. As of July 19, the club was 14-13 in league and trailed three teams in the WCCBL standings. But the Knights roared back and won 11 out of its last 13 games including a home sweep of the first place Spokane RiverHawks setting up a quasi-playoff with the defending champion Wenatchee AppleSox on the season's final day. The Knights and Sox finished with a doubleheader at Oslund Field and the Knights only had to win one to advance to the WCCBL Championship Series. Unfortunately, the Sox swept 3-1, 2-1 as Aloha lost to 2007 first round draft pick right-hander Clay Mortensen of Gonzaga and 2007 Cape Cod League Pitcher of the Year southpaw Tommy Milone of USC. The Knights started the season hot as the Gresham-based club took another series from traditional rival the Humboldt Crabs in the pre-season.
Highlights:
Knights go 16-5 in league play at home, record two six-game league win streaks and are the only team to win regular season series from first place Spokane and only team to sweep the RiverHawks.
For the first time in the club's wood bat era not a single Knight was named First-Team All-League.
Ace pitcher Marc Rzepczynski of University of California, Riverside was named Second-Team All-WCCBL, the Knights only All-League selection.
Jared Prince of Washington State is named the WCCBL's #1 prospect by Baseball America. Marc Rzepczynski is named the #4 prospect and reliever James Wallace of College of Southern Idaho is named the #9 prospect.
The Knights take 3 of 4 from the Humboldt Crabs to improve their seven-year career series mark vs. the Crustaceans to 16-11.
Shawn Wayt of Gonzaga turns in impressive two-way season as Wayt focuses on pitching while leading the team in hitting with a .291 batting average. Wayt makes 9 appearances, posts a 2.10 ERA while going 3-0 with 2 saves.
Knights lose its entire starting rotation and closer to injury or signing as the club's #1 starter, Zach Bird of Washington State, signs with Florida and Bryce Mooney of Washington, Harrison Bishop of Bellevue CC, Jared Prince and Rob Summers of Oregon State suffer season-ending injuries.
Seven Knights are named to the WCCBL All-Star West Team: Erik Ammon of Oregon State; Zach Borba of UNLV; Jared Prince; Marc Rzepczynski; Mark Samuelson of University of California, Riverside; Ryan Selden of Riverside CC; and James Wallace.
Zach Borba is named the 2006 WCCBL All-Star Game co-MVP.