Roster | Transactions | Front Office | Mission | Stats | Team History
Knights in the Pros | Knights in College | Alumni
About the Knights
1990 - 1991 - 1992 - 1993 - 1994 - 1995 - 1996 - 1997 - 1998 - 1999
2000 - 2001 - 2002 - 2003 - 2004 - 2005 - 2006 - 2007 - 2008 - 2009
2010 - 2011 - 2012 - 2013 - 2014 - 2015 - 2016
Team Highlights
Individual Honors
Career Single Season Leaders
Career Single Season Leaders (wood bat)
Single Season Leaders by Year
Team Season Totals by Year
Coaches Listing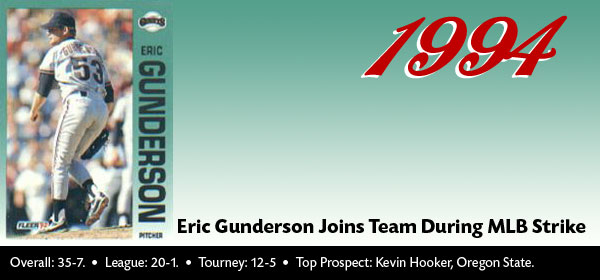 Disappointed by four years of questionable league competition, the Knights finally join the Portland City League (MABL). The team rips through the new league losing only once. But the club takes the MABL championship tournament lightly and wastes a first-place finish by losing to its chief nemesis the Portland Wildcats twice in the tournament. The team places third in the 1994 PIL tournament opening with resounding victories over the Kelowna Grizzlies and Taylor Electric. Losses to the Tacoma Timbers, in the winner's bracket championship game 7-4, and Kelowna the following day sours a promising start. Another trip to South Lake Tahoe (Lake Tahoe Invitational) produces more frustration as the team can't escape its pool with a 2-1 record. The team's highlight is a second consecutive Rose City Invitational title.
Highlights:
Aloha wins its second Rose City Invitational. Dan Segel named MVP and John Sipple Most Valuable Pitcher.
Knights sweep the Tacoma Timbers in a doubleheader at Cheney Stadium.
Aloha posts top MABL record at 20-1.
Don Nichols, Jeff Post and Sipple combine for 230.1 IP, 286 K's and 26 wins.