Roster | Transactions | Front Office | Mission | Stats | Team History
Knights in the Pros | Knights in College | Alumni
About the Knights
1990 - 1991 - 1992 - 1993 - 1994 - 1995 - 1996 - 1997 - 1998 - 1999
2000 - 2001 - 2002 - 2003 - 2004 - 2005 - 2006 - 2007 - 2008 - 2009
2010 - 2011 - 2012 - 2013 - 2014 - 2015 - 2016
Team Highlights
Individual Honors
Career Single Season Leaders
Career Single Season Leaders (wood bat)
Single Season Leaders by Year
Team Season Totals by Year
Coaches Listing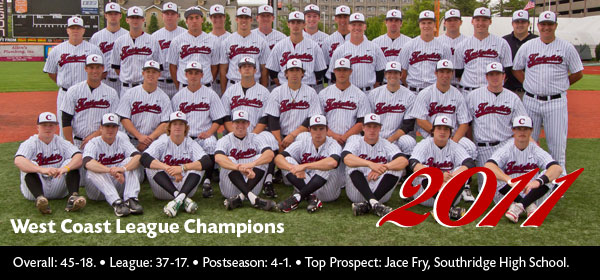 The Knights were 14-12 and in third place in the WCL West Division after an 11-2 loss at Bend on July 5. They had lost five of their last six games at that point, and faced a long bus ride to Kelowna, British Columbia to face the always tough Falcons. At that point, the summer turned on its axis. Corvallis swept Kelowna and began an incredible hot streak that did not end until they swept Walla Walla in the WCL Championship Series to earn their first league title since 2008. Corvallis won its final nine WCL series and the West regular-season title; captured two playoff series, and won 27 of its final 33 games overall to earn a #6 national ranking in the PG Crosschecker final summer college baseball poll. The Knights also finished 35th nationally in average attendance as Corvallis drew 42,447 to Goss Stadium for a 1,286 per game average, setting new franchise marks. The Knights also set a club playoff-attendance record by drawing 1,646 for their WCL Championship Series finale victory over Walla Walla, and drew a record 2,517 fans to Goss Stadium for the WCL All-Star Game, revived after a two-year hiatus. Corvallis won 45 games overall and went 28-6 at Goss Stadium to improve the Knights' five-year home record to 124-30.
Highlights:
Knights go 12-5-1 in WCL series and win their last nine in a row.
Corvallis wins 27 of their final 33 games to pull away from Bend and win a fifth consecutive West Division title by eight games.
The Knights crush Walla Walla 14-3 and 11-4 in the WCL Championship Series, the two most lopsided scores in WCL postseason history.
Corvallis is ranked #6 by PG Crosschecker in Perfect Game USA's final summer college baseball poll.
Closer Mark Trentacosta of UC Irvine sets a franchise WCL record with 11 saves and does not allow a run over his final 14 appearances. The redshirt junior-to-be allowed one earned run over 34 1/3 relief innings, for a 0.26 ERA.
Junior outfielder Kramer Scott of Portland hit .625 (10-16) in five playoff games, with a homer and seven RBIs. He registers at least one hit and one RBI in every playoff game.
Junior utility man Ryan Gorton of Oregon State homers in both games of the WCL Championship Series, hits .625 and drives in seven runs in the Knights' two-game sweep of Walla Walla.
Gorton earns two WCL Player of Week honors and is named Second-Team All-WCL as a utility player. Ryan makes starts at catcher, third base, first base, outfield and designated hitter.
Junior pitcher Chris Johnson of Portland finishes 6-0 and posts a 2.91 ERA in all games, including an All-Star Game appearance, and records a 27-inning scoreless streak during the regular season.
Pitchers Chris Johnson, Chase Johnson (Cal Poly), Dylan Stuart (UC Riverside), Jace Fry (Southridge High School), Trentacosta, Ben Wetzler (Oregon State) and Max Beatty (PLU) are selected to represent the Knights in the WCL All-Star Game, as are infielders Jimmy Allen (Cal Poly), Sean Myrom (Concordia), Corey Moore (PLU) and Trent Oleszczuk (Seattle).
Myrom wins the WCL All-Star Game Home Run Derby in front of the home fans. Wetzler is the MLB scouts choice as the game's Top Prospect.
Twenty-four MLB scouts attend the WCL All-Star Game. Goss Stadium nearly sells out as 2,517 watch an exciting contest won by the East 4-2.
Junior catcher Corey Davis of Wright State hits .317 and finishes fifth in the WCL batting race. Mid-season pickups outfielder Cade Gotta of Riverside CC (.314) and Ryan Gorton of Oregon State (.301) also crack the .300 barrier, but don't have enough at-bats to qualify for the batting title.
Davis, Oleszczuk and Trentacosta earn First-Team All-WCL honors; Gorton, Chris Johnson, Stuart, Fry, Beatty, Wetzler, first baseman David Armendariz of Cal Poly and Moore are all named Second-Team All-WCL.
Armendariz earns team MVP honors, and Chris Johnson is named Top Pitcher as voted on by the Knights' coaching staff and team president.
Sophomore righty Max Beatty of Pacific Lutheran University goes 6-1 and posts a 2.42 ERA in league play to lead the pitching staff. Chris Johnson (5), Kyle Hart of University of Redlands (4), Scott Schultz of Oregon State (4), Trentacosta (3) and Chase Johnson of Cal Poly (3) also record more than two wins.
Hart pitches seven innings of one-hit ball against the expansion Klamath Falls Gems on August 3 and tallies a season-high 10 strikeouts as the Knights' clinch first place in the WCL West at historic Kiger Stadium.
Three-year Knights' pitcher Nick Hoover shuts out Bellingham over seven innings in his first start of the year on July 20, and the Knights complete a comeback from a 16-1 loss in the series opener to win the road series 2-1.
The Knights lead the WCL in ERA (2.47) and are second in batting average (.253).
Frosh pitcher Jimmie Sherfy of Oregon does not allow a run in his final 10 appearances and becomes an outstanding late-inning bridge to Trentacosta; Sherfy finishes the season 1-0 with a 1.93 ERA and punches out 23 over 19 1/3 innings pitched.
Baseball America and PG Crosschecker rate Oregon State frosh-to-be Jace Fry the West Coast League's #1 prospect. Wetzler is ranked the #4 WCL prospect, and Sherfy #9 and Chase Johnson #10 by Baseball America.
Corvallis skipper Brooke Knight, assistant coach Billy Clontz and pitching coach Connor Lambert coach the West in the WCL All-Star Game.
Coach Knight earns his third WCL Coach of the Year honor.
Knights turn a triple play, the first in team history, in a 5-1 non-league home win vs. the WCL Portland Bucks on June 16.
Junior shortstop Trent Oleszczuk of Seattle solidifies the infield and the leadoff spot after joining the team on June 21. He leads the Knights in walks (32), hit by pitch (10) and on-base percentage (.432), and only commits six errors.
The Knights hit four homers in the two-game WCL Championship Series after hitting just eight in 54 regular-season games. Gorton (2), Allen and Scott connect for Corvallis.
Corvallis wins 37 league games to increase its seven-year WCL total to 216, the most in the league. Wenatchee ranks second with 204.
WCL champions.