Roster | Transactions | Front Office | Mission | Stats | Team History
Knights in the Pros | Knights in College | Alumni
About the Knights
1990 - 1991 - 1992 - 1993 - 1994 - 1995 - 1996 - 1997 - 1998 - 1999
2000 - 2001 - 2002 - 2003 - 2004 - 2005 - 2006 - 2007 - 2008 - 2009
2010 - 2011 - 2012 - 2013 - 2014 - 2015 - 2016
Team Highlights
Individual Honors
Career Single Season Leaders
Career Single Season Leaders (wood bat)
Single Season Leaders by Year
Team Season Totals by Year
Coaches Listing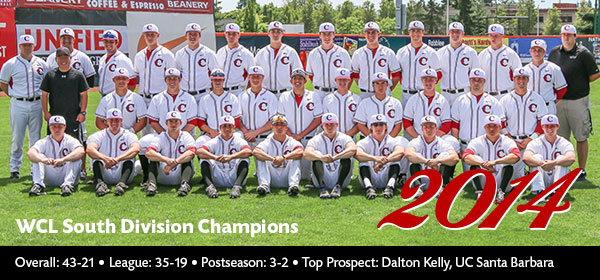 A heartbreaking 3-2 loss to the Bellingham Bells in game three of the WCL Championship Series kept the Corvallis Knights from repeating as West Coast League champions. Corvallis won game one of the WCLCS 4-3 at Goss Stadium, but could not capture a game at Joe Martin Field. Both games were played before boisterous Bellingham crowds as the Bells averaged 2,752 per home game during the WCLCS. The Knights eighth summer in Corvallis, and 25th season in total, was highly successful. The team went 43-21 overall, claimed its eighth consecutive pennant, and then swept Bend in the Divisional Series to advance to the Championship Series for the seventh time since relocating to Corvallis. The Knights once again were very good at home going 27-8 at the friendly confines of Goss Stadium. Corvallis used a combined 19-8 mark vs. South Division foes Bend, Klamath Falls and Medford to ensure its division title streak.
Highlights:
Knights win 40+ games for the fifth time in team history (43-21) by going 35-17 in WCL games, 5-0 in nonconference games, and 3-2 in the playoffs.
Corvallis draws 43,438 fans, the second-highest total in franchise history, with three crowds of 2,400 or more. The Knights averaged 1,278 per game and 1,269 fans per league game, sixth-best in the WCL.
Infielders Marc Gallegos of Corban and Kevin Kline of Dixie State; and pitchers Brand Choate of Washington, Chris Haddeland of Linfield College and Jackson Lockwood of University of Portland were WCL All-Star Game selections.
The 2014 WCL All-Star Game, hosted by Klamath Falls, is canceled for the first time in league history as rains wash out any hopes of playing as heavy rain starts during the All-Star Game's Home Run Derby at Kiger Stadium. Joe Duffin of Cypress College represents Corvallis in the derby for the second consecutive summer. Lockwood was the scheduled starting pitched for the South.
Corvallis blasts a WCL single-season team-best 33 homers, and 37 home runs overall. Senior-to-be first baseman Kevin Kline leads the team with 9 homers. His last homer was his best as Kline hammered arguably the most dramatic home run in Knights' history vs. Bend in the Divisional Playoff Series sending Corvallis to the WCLCS with a two-run walk-off homer at Goss Stadium. Kline's 8 WCL regular-season home runs were tied for second best in the league.
Outfielder Grant Melker of San Diego sets both a team and league single-season steals record, with 29 stolen bases in WCL play and 32 overall.
Utility man Dalton Kelly of UC Santa Barbara, Gallegos and Lockwood earn first-team All-West Coast League honors. Choate, Kline, Melker and pitcher Angel Landazuri of UC Riverside were second-team selections. Haddeland, catcher Logan Ice of Oregon State, utility man Dane Lund of Oregon State and third baseman Jackson Soto of West Albany High School are named All-WCL honorable mention.
Choate and Landazuri shine as the team's closer and ace starter, respectively, for the Knights. Landazuri posts a team-low WCL ERA of 2.43 over 7 starts winning four games with no defeats while striking out 35 and walking only 6. Choate is dominant making 20 overall relief appearances and registering a team-high 10 saves. The right-hander went 2-0 with a 1.01 ERA.
Dalton Kelly ranks as the No. 5 pro prospect in the West Coast League as rated by Baseball America. Sophomore-to-be right-handed pitcher Justin Calmeni of Cal Poly was rated the league's No. 7 prospect.
Kelly leads the Knights in hitting with a .336 WCL batting average and ties for the league lead in triples with 4. The sweet-swinging left-handed hitter is second to Kline on the team in WCL RBIs with 34 and homers with 7. Kline leads the club with 45 WCL RBIs and 48 overall.
Melker leads the league in outfield assists with 9. Michael Lucarelli of Portland leads all WCL shortstops in assists with 162. Gallegos leads the league in assists at second base with 137. And Jackson Soto leads all WCL third basemen in fielding percentage at .946.
Knights post league-best 15-4 regular-season mark in one-run games.
Seventeen current, former or future Knights were selected in the 2014 Major League June draft.
Corvallis wins 35 league games to increase its ten-year WCL total to 320, the most in the league. Wenatchee ranks second with 300.
Knights go a league-best 19-8 at home, and finish the season 27-8 overall at Goss Stadium.
WCL runners-up.