Roster | Transactions | Front Office | Mission | Stats | Team History
Knights in the Pros | Knights in College | Alumni
About the Knights
1990 - 1991 - 1992 - 1993 - 1994 - 1995 - 1996 - 1997 - 1998 - 1999
2000 - 2001 - 2002 - 2003 - 2004 - 2005 - 2006 - 2007 - 2008 - 2009
2010 - 2011 - 2012 - 2013 - 2014 - 2015 - 2016
Team Highlights
Individual Honors
Career Single Season Leaders
Career Single Season Leaders (wood bat)
Single Season Leaders by Year
Team Season Totals by Year
Coaches Listing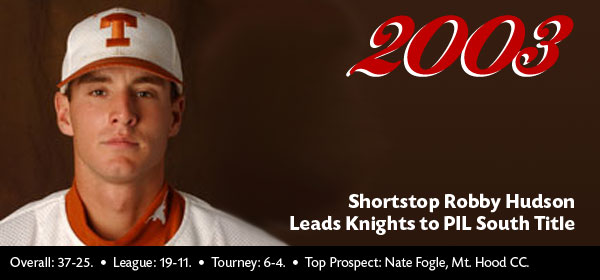 After finishing second three times at the Kamloops International Baseball Tournament (KIBT), the 2003 Knights broke through with a championship game victory and earned the Knights first KIBT crown. 2003 also featured a 10-day trip to Alaska to play Alaska Baseball League clubs and a trip to Calgary, Alberta to play the Calgary Dawgs during the Calgary Stampede. The Knights went 5-4 in Alaska and stayed at Canada's Olympic Park and participated in Stampede activities while in Calgary. The regular season featured another strong finish as the Knights won 7 of their last 8 to tie for first place in the PIL South. The Knights co-South championship marks their third PIL South title in four years.
Highlights:
Knights win their first KIBT championship as Aloha goes undefeated and out scores its opposition 21-2. Scott Nelson of Oregon State is named the KIBT's MVP and also wins the "Top Hitter" and "Most HR" awards. Teammate Jason Pohl of Lower Columbia College is named Most Valuable Catcher. Aloha is also named the tournament's Most Sportsmanlike Team.
Knights host its second annual All-American Invitational NBC World Series qualifying tournament. The home team gets bounced early and Seattle beats Humboldt in the AAI championship game. The club's affiliate team the Mt. Hood Cardinals perform exceptionally well upsetting the Knights and Portland Kings to take third place.
Attendance for the tournament increases as over 1,000 fans enjoy a weekend of great baseball and ballpark fun including Humboldt's Crab Grass Band.
Aloha goes 5-4 in Alaska vs. Alaska Baseball League clubs and wins its series with the Anchorage Glacier Pilots, 2002 NBC World Series runner-up, 2 games to 1. Aloha pitching shines as the club plays its best ball of the season in Alaska. The Knights go 1-1 vs. the Mat-su Miners, 1-0 vs. the Anchorage Bucs and 1-2 vs. the Kenai Oilers.
Andy Jenkins and Nate Fogle of Mt. Hood CC, Zach Kosturos of Edmonds CC and Michael Devaney of Concordia University are First-Team All-PIL selections.
Nate Fogle of Mt. Hood CC emerges as the staff's ace, sets a new Knights single-season ERA record as he posts a miniscule 1.04 ERA and is named the Knights' co-Top Pitcher.
Michael Devaney of Concordia University is named the Knights' co-Top Pitcher as Michael turns in an outstanding summer that included a KIBT championship game shutout and a shutout of the Bend Elks at Bend.
The Knights' pitching staff leads the PIL in team ERA (3.28).
Gritty shortstop Robby Hudson of Riverside CC wins the team's Joe Segel Hustle Award.
Scott Bolcoa of Riverside CC wins the PIL Tournament HR derby.
Freshman first baseman Scott Nelson of Oregon State leads the team in HR (8) and batting average (.360) and is named team MVP.
PIL South co-champs.