Roster | Transactions | Front Office | Mission | Stats | Team History
Knights in the Pros | Knights in College | Alumni
About the Knights
1990 - 1991 - 1992 - 1993 - 1994 - 1995 - 1996 - 1997 - 1998 - 1999
2000 - 2001 - 2002 - 2003 - 2004 - 2005 - 2006 - 2007 - 2008 - 2009
2010 - 2011 - 2012 - 2013 - 2014 - 2015 - 2016
Team Highlights
Individual Honors
Career Single Season Leaders
Career Single Season Leaders (wood bat)
Single Season Leaders by Year
Team Season Totals by Year
Coaches Listing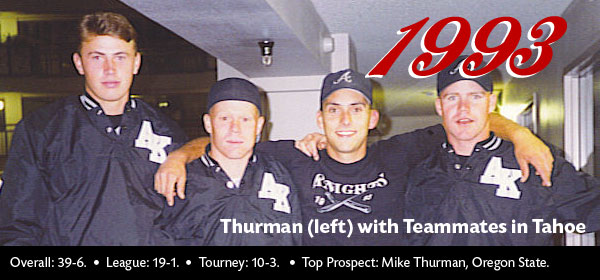 The Knights play in their first Pacific International League Tournament in Hermiston, Oregon. The semi-pro team from Aloha beats the PIL's West Seattle Classics and at-large invite the Big Sky Legends, but loses to the PIL's Everett Merchants and Hermiston Sox and does not place. The Knights return to the Lake Tahoe Invitational, win their pool by going 3-0 and lose in a semi-final match vs. the Lake Tahoe Emeralds. The Knights enter their first Rose City Invitational, go undefeated and take 1st place. The team plays its last season on the West Side of Portland and wins another CRABL championship.
Highlights:
Knights win the Rose City Invitational. Randy Johnson named MVP and Don Nichols Most Valuable Pitcher.
Aloha wins pool (3-0) at Lake Tahoe Invitational and takes 3rd place ($500). Tony Fair and Jeff Moore are named to the All-Tourney Team. Active collegiate player Mike Thurman (Oregon State) showcases his major league fastball.
Greg Williams throws a no-hitter on opening day.
Knights take 4 of 5 in a home and away series with the Hermiston Sox.
Tony Fair (37), Randy Johnson (43) and Rich Sermone (32) combine for 112 stolen bases.
CRABL champs.