Roster | Transactions | Front Office | Mission | Stats | Team History
Knights in the Pros | Knights in College | Alumni
About the Knights
1990 - 1991 - 1992 - 1993 - 1994 - 1995 - 1996 - 1997 - 1998 - 1999
2000 - 2001 - 2002 - 2003 - 2004 - 2005 - 2006 - 2007 - 2008 - 2009
2010 - 2011 - 2012 - 2013 - 2014 - 2015 - 2016
Team Highlights
Individual Honors
Career Single Season Leaders
Career Single Season Leaders (wood bat)
Single Season Leaders by Year
Team Season Totals by Year
Coaches Listing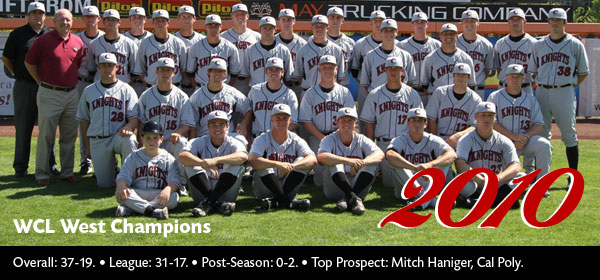 The Knights started slow, but finished with a flurry winning 15 of its last 18 games to capture the team's fourth consecutive WCL West title. But Corvallis could not solve its archrival and were ousted in the WCL West Divisional Series by the Bend Elks, who went 6-2 vs. the Knights in 2010. Corvallis posted the West Coast League's best record for a third straight year at 31-17 and for a fourth straight year the club broke its own total attendance and per game attendance records by drawing 30,888 to Goss Stadium for an average of 996 per game. The Knights went 37-19 overall despite starting the season cold, going 6-8 in the WCL over the first few weeks of an unseasonably wet and cold June. From that point, Corvallis ripped off a 7-game win streak that included a home sweep of Wenatchee. Corvallis continued to play very well at home recording a 23-8 mark at Goss to improve its four-year mark at home to 96-24.
Highlights:
Knights win 11 of 16 regular season series including 6 straight to finish the season.
Corvallis posts two lengthy winning streaks, seven games (June 27-July 3) and eight games (July 19-27).
Frosh closer Mitch Patito of UC Riverside leads the team in saves with 8 and holds WCL opponents to a paltry .164 batting average while striking out 25 over 22 innings pitched.
Outfielder Mitch Haniger, a sophomore-to-be at Cal Poly, is named the league's #4 prospect by Baseball America. Patito is rated #5.
Haniger, sophomore outfielder Michael Blake of Mt. Hood CC and sophomore starting pitcher Kyle Kraus of University of Portland are named First-Team All-WCL. Patito, frosh shortstop Matt Duffy of Long Beach State, junior pitcher Dustin Emmons of UC Riverside and junior first baseman Dylan Jones of Oregon State are named Second-Team All-WCL.
Emmons returns for a second season with the Knights after a short stint in the Cape Cod League. Dustin goes 5-0 and posts a 2.43 ERA to improve his two-year mark with Corvallis to 10-0.
Blake, a junior-to-be at Hawaii, and Jones lead the Knights offense as Blake finishes third in the league in hitting with a .344 average and Jones fifth with a .336 average. Dylan ties for the league lead in hit-by-pitch with 17.
Jones hits a thrilling walk-off home run vs. the expansion Cowlitz Black Bears on July 21. The monster blast in the bottom of the 16th gives the Knights the 5-4 extra-inning home win. The game lasts 4 hours and 20 minutes.
Haniger shows off a strong arm in centerfield and makes arguably the best catch in Knights' history vs. Wenatchee on June 29 to preserve a 4-2 Corvallis win. The Big West Freshman of the Year leads the Knights in WCL runs scored with 26, walks with 22 and triples with 5 while hitting .299 with 3 HR and 18 RBI in WCL action.
Corvallis plays well versus their long-time nemesis the Wenatchee AppleSox sweeping the Sox at Goss and taking two-of-three at Paul Thomas Sr. Stadium in Wenatchee. With the wins, the Knights lead the all-time series 25-24. Over six years in the WCL, Corvallis leads the league in wins with 178 while Wenatchee is second with 165.
Returnees Nick Hoover of UC Irvine and Eric Young of Riverside CC emerge as key contributors in the bullpen. Hoover, a junior-to-be, goes 2-1 with a 2.63 ERA and strikes out 34 over 27 1/3 innings pitched in the WCL. Young, junior-to-be at Delaware, ties for the team lead in WCL appearances with 14 and posts an ERA of 1.52.
Knights lose ace pitchers Kyle Kraus and frosh Evan Brock of UC Irvine for the stretch run, as both missed the final three weeks of the season due to injury.
Kraus (5-1, 1.75) leads the team in WCL innings pitched with 46 1/3 and strikeouts with 40.
Senior-to-be outfielder Daniel Dillard of Western Oregon leads the Knights in WCL home runs with 5, stolen bases with 13 and RBI with 25. Dillard earns Joe Segel Hustle Award honors.
Under first-year pitching coach Ryan Wing, the Knights' pitching staff posts the league's lowest ERA at 2.98 and leads the league in strikeouts with 391, shutouts with 8 and saves with 19. The Knights' offense finishes the WCL regular season tied for second in team hitting with a .267 batting average.
At the conclusion of the regular season, Corvallis is ranked #10 by Perfect Game Crosschecker in the online publication's National Summer Collegiate rankings. After getting swept by Bend in the post-season, Corvallis drops entirely out of the publication's final rankings.
WCL West champions.