Roster | Transactions | Front Office | Mission | Stats | Team History
Knights in the Pros | Knights in College | Alumni
About the Knights
1990 - 1991 - 1992 - 1993 - 1994 - 1995 - 1996 - 1997 - 1998 - 1999
2000 - 2001 - 2002 - 2003 - 2004 - 2005 - 2006 - 2007 - 2008 - 2009
2010 - 2011 - 2012 - 2013 - 2014 - 2015 - 2016
Team Highlights
Individual Honors
Career Single Season Leaders
Career Single Season Leaders (wood bat)
Single Season Leaders by Year
Team Season Totals by Year
Coaches Listing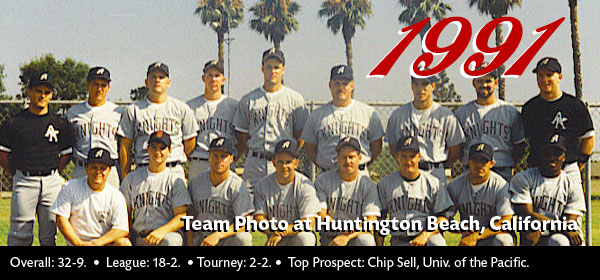 In search of stiffer competition, the Knights schedule their first out-of-state road trip. The team spends a week in Huntington Beach, California, plays five games versus Southern California semi-pro teams, goes 4-1 and is featured on an evening Orange County newscast anchored by ESPN sportscaster Dave Marsh. The Knights host their first tourney, the Hawkeye Invitational, at Linn-Benton CC and lose to rival Wright Wildcats in the championship game.
Highlights:
Knights feature several active collegiate players including Chip Sell of University of the Pacific, Kevin Hooker and Brooke Knight of Oregon State, Jeff Mead of Willamette, Kyle Burt of Western Oregon and Jason Meyers of Linn-Benton CC. Sell plays a stellar outfield and is the club's offensive leader hitting .400 with 5 HR and 36 RBI. Mead is the team's top starting pitcher.
Aloha's first van trip takes the club to Klamath Falls for a three-game series. The hometown Timberwolves win the rubber game 8-7.
Knights start playing home games at Aloha High School.
BABL champs.