Roster | Transactions | Front Office | Mission | Stats | Team History
Knights in the Pros | Knights in College | Alumni
About the Knights
1990 - 1991 - 1992 - 1993 - 1994 - 1995 - 1996 - 1997 - 1998 - 1999
2000 - 2001 - 2002 - 2003 - 2004 - 2005 - 2006 - 2007 - 2008 - 2009
2010 - 2011 - 2012 - 2013 - 2014 - 2015 - 2016
Team Highlights
Individual Honors
Career Single Season Leaders
Career Single Season Leaders (wood bat)
Single Season Leaders by Year
Team Season Totals by Year
Coaches Listing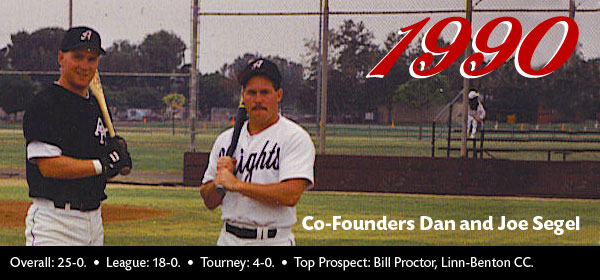 The Knights run the table in their inaugural semi-pro season. Even versus questionable competition a 25-0 season is remarkable. The team is made up primarily of ex-Aloha High School players hungry for a baseball fix. The team practically begs for acceptance into the Beaverton Adult Baseball League run by Gene Kellert. The infamous Mr. Kellert makes it clear that this "isn't softball guys, you sure about this?". The Knights take his words to heart and blast through the BABL and beat a BABL All-Star team at the conclusion of the season.
Highlights:
Knights score 27 runs in a game (Knights 27, Hillsboro 4). Rich Sermone hits two grand slam homers and drives in 10.
Rod Scheckla wins all 11 of his starts.
Knights win the Wildcats Invitational. Sermone named MVP and Rod Scheckla Most Valuable Pitcher.
Jeff Moore, George Ross, Scheckla and Dan Segel represent the BABL in a BABL vs. MABL (Portland City League) All-Star game. Segel collects 5 RBI in the All-Star contest.
Knights beat the Sherwood Wildcats twice in non-league games. A decade rivalry is born (Sherwood/Wright/Portland Wildcats).
BABL champs.