Roster | Transactions | Front Office | Mission | Stats | Team History
Knights in the Pros | Knights in College | Alumni
About the Knights
1990 - 1991 - 1992 - 1993 - 1994 - 1995 - 1996 - 1997 - 1998 - 1999
2000 - 2001 - 2002 - 2003 - 2004 - 2005 - 2006 - 2007 - 2008 - 2009
2010 - 2011 - 2012 - 2013 - 2014 - 2015 - 2016
Team Highlights
Individual Honors
Career Single Season Leaders
Career Single Season Leaders (wood bat)
Single Season Leaders by Year
Team Season Totals by Year
Coaches Listing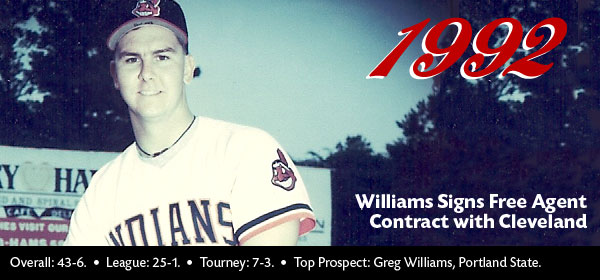 The Knights enter their first money tournament. The team travels south to play in the 11th annual Lake Tahoe Invitational. The club plays well and goes 2-1, but not good enough to win its round-robin pool. A one game playoff determines the 1992 BABL champion. The Knights claim the title for a third straight year by beating the Black Sox 15-0. The title earns the Knights the right to play for the Columbia River Adult Baseball League crown matching Beaverton's champion vs. the Vancouver, Washington Adult Baseball League champion in a best two out of three series. The Knights dispose of the Yankees 2 games to 0 and are CRABL champs.
Highlights:
Randy Johnson, George Ross and Rod Scheckla put up gaudy offensive numbers. Johnson hits .470, scores 73 runs, steals 40 bases, walks 36 times and collects 52 RBI. Ross hits .461, bangs out 65 hits, wallops 11 homers and collect 72 RBI. Scheckla hits .455, scores 58 runs, steals 25 bases, blasts 10 homers and collects 56 RBI.
Greg Williams blossoms into the staff ace and posts a 10-1 record.
Knights fail to place in a season-ending CRABL tournament that includes teams from the CRABL and MABL (Portland City League). Knights go 2-2 and the Wright Wildcats win the CRABL tournament.
BABL and CRABL champs.