Roster | Transactions | Front Office | Mission | Stats | Team History
Knights in the Pros | Knights in College | Alumni
About the Knights
1990 - 1991 - 1992 - 1993 - 1994 - 1995 - 1996 - 1997 - 1998 - 1999
2000 - 2001 - 2002 - 2003 - 2004 - 2005 - 2006 - 2007 - 2008 - 2009
2010 - 2011 - 2012 - 2013 - 2014 - 2015 - 2016
Team Highlights
Individual Honors
Career Single Season Leaders
Career Single Season Leaders (wood bat)
Single Season Leaders by Year
Team Season Totals by Year
Coaches Listing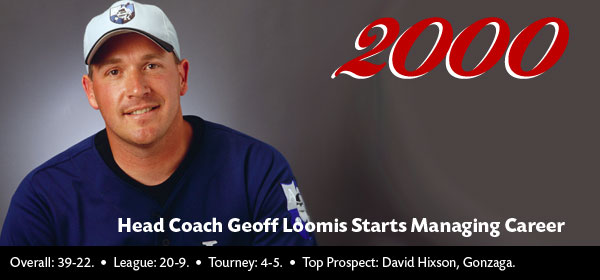 The 2000 season featured the Knights' inaugural wood bat campaign and Coach Loomis' first season as the club's field manager. The team responded well to both as they won the Pacific International League Southern Division, posted the PIL's top record and earned a playoff berth. Years without a home ballpark came to a close as the Knights moved into Oslund Field at Mt. Hood Community College. The Knights thrived in its new digs going 18-3. Under pennant race pressure, the team went 6-1 over its last 7 games (all at Mt. Hood CC). A 9-3 victory over the PIL North #2 team, the Coquitlam A's, in Wenatchee, Washington earned the Knights a chance at the PIL Championship and a trip to the NBC World Series. A 7-5 championship game defeat at the hands of the Everett Merchants dashed the club's Wichita hopes.
Highlights:
Brian Barnett is named team co-MVP and breaks two career single-season offensive records by collecting 222 at bats and smacking 8 triples. He leads the team in seven offensive categories.
David Hixson of Gonzaga emerges as the Knights' first dominant closer. He registers a record 8 saves while posting a 1.82 ERA.
Mike Stewart of University of Portland wins the Joe Segel Hustle Award and hits .347 capturing the team's first wood-bat batting crown.
Staff ace Kurt Brauckmiller is named All-PIL.
Pitching coach Andrew Checketts molds arguably the PIL's best pitching staff and is named All-PIL for his own outstanding pitching.
Pitcher Brian Huck of Mt. Hood CC turns in a summer performance worthy of a University of the Pacific scholarship.
Knights hammer Humboldt Crabs 8-3 at Arcata Baseball Park in the team's first ever meeting, but lose series by dropping next three games.
Aloha beats Island Movers for first time, 12-9, at Rainbow Stadium in Honolulu, Hawaii.
Five 1999 Knights sign pro contracts: Rich Dorman (Tampa Bay), Brian Graham (Chicago White Sox), Joe Gerber (Detroit), Jordan Hunt (Houston) and Mark Newell (Kansas City).
Mike Boire is named MVP of the State League in South Perth, Australia.
Dan Segel retires mid-season after 11 years of semi-pro play. Segel goes 3 for 4 vs. Redding in his last game.
Knights place 4th at the Kamloops International Baseball Tournament. Mike Stewart named KIBT "Top Hitter".
Aloha posts top PIL record at 20-9.
PIL South champs.