Roster | Transactions | Front Office | Mission | Stats | Team History
Knights in the Pros | Knights in College | Alumni
About the Knights
1990 - 1991 - 1992 - 1993 - 1994 - 1995 - 1996 - 1997 - 1998 - 1999
2000 - 2001 - 2002 - 2003 - 2004 - 2005 - 2006 - 2007 - 2008 - 2009
2010 - 2011 - 2012 - 2013 - 2014 - 2015 - 2016
Team Highlights
Individual Honors
Career Single Season Leaders
Career Single Season Leaders (wood bat)
Single Season Leaders by Year
Team Season Totals by Year
Coaches Listing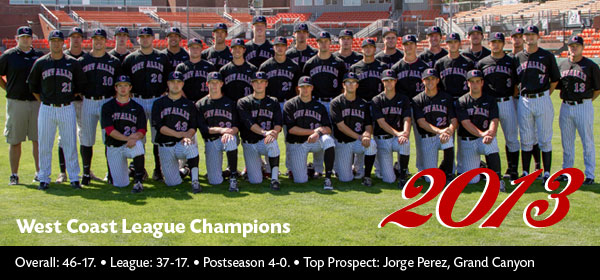 The Corvallis Knights completed one of the most successful seasons in franchise history by sweeping the West Coast League Championship Series (WCLCS) to capture their third league crown. The sizzling Knights won their final 14 games and avenged a WCLCS loss to Wenatchee in 2012 to earn a lofty #3 national ranking in PG Crosschecker's final summer collegiate baseball poll, their highest-ranking ever. Corvallis claimed the South Division pennant for the seventh successive year by six games over second-place Medford and Bend. They then swept Medford in the South Divisional Series to advance to the WCLCS for the sixth time in the past seven seasons. Center fielder Blake Drake of Concordia and pitcher Jorge Perez of Grand Canyon were named summer All-Americans by Perfect Game USA. Drake was a second-team choice, Perez a third-team selection. These Corvallis Knights gave no indication in June that a spectacular summer was in the offing. They spent a short stay in the South cellar early with a 2-5 record and closed out the month by being swept by Kitsap for the first time in team history. On July 1, the Knights were 12-12 in league play and in danger of not making the playoffs for the first time in franchise history. However, at that point the Knights caught fire. Corvallis climbed back into South Division contention by winning 8 of their next 9 WCL games against Bellingham, Wenatchee and Walla Walla. They dropped 2 of 3 at Bellingham, but responded sweeping Medford and Victoria in their first two series after the all-star break. The Knights then dropped 2 of 3 at Kelowna, the last-place team in the North Division. The second loss came on Aug. 1; they would not be beaten for the remainder of the season. They completed the regular season on a 10-game winning streak. Nothing changed in the playoffs as the Knights stayed hot. Corvallis eliminated Medford 8-6 and 7-3 in the Divisional Series, and swept Wenatchee 3-1 and 1-0 in the WCLCS to earn their third title to complement their 2008 and 2011 championships.
Highlights:
Knights win 40 games for the fourth time in history (46-17) by going 37-17 in WCL games to post the league's best record, 5-0 in nonconference games, and 4-0 in the playoffs.
Corvallis establishes new attendance standards, as 43,529 fans flock to Goss Stadium, an average of 1,319 per opening, another record, easily breaking the old mark of 42,447, set in 2011.
Knights shatter their year-old WCL stolen base record (105) by swiping 149 bags, more than double the second-place team in that category. Outfielder Grant Melker of San Diego leads the WCL with 26 steals; Lund ties for second with 25 and Drake is fourth with 20. Melker sets a team single-season record for stolen bases with 31.
Corvallis once again leads the WCL in team ERA (2.80) and frosh southpaw Elliot Surrey of UC Irvine posts the league's lowest ERA (1.26).
Twelve Knights earn All-WCL honors including first-team selections catcher Dane Lund, outfielder Blake Drake of Concordia, shortstop Peter Van Gansen of Cal Poly and pitcher Elliot Surrey.
Corvallis skipper Brooke Knight earns Coach of the Year honors, for the fourth time.
Five Knights participate in the WCL All-Star Game in Victoria, BC including Lund, Drake, third baseman Cody Lenahan of Portland, pitcher Brandon Choate of Tacoma CC and pitcher Devon Barker.
Corvallis leads all WCL teams with three Baseball America top ten WCL prospects and eight PG Crosschecker top 40 WCL prospects. Pitcher Jorge Perez of Grand Canyon is #2 on both lists while Blake Drake and pitcher Dylan Hecht of UC Santa Barbara both make the top ten of each list with Drake being ranked #3 by BA and #8 by PGC and Hecht being rated #4 by BA and #3 by PGC.
Lenahan ties for second in the WCL with a team-best 36 RBIs and leads the league in triples with 4. First baseman Kevin Kline of Dixie State ends up fourth in RBIs with 34.
Lund was sixth in the WCL with a .343 average despite playing the final month with an injured hand. Lenahan (.314), Van Gansen (.310) and Kline (.302) also finish above the coveted .300 mark.
Corvallis adds Kavin Keyes of Oregon State late, and Keyes hits .304 with 6 RBIs over 23 regular-season at bats and goes 9-for-15 in the playoffs giving the Knights a late-season and post-season offensive boost.
Van Gansen is spectacular in the field, posting a .988 fielding percentage. The slick-fielding shortstop and second baseman makes only two errors all summer.
Blake Drake proves to be the best defensive outfielder in the WCL making several game-changing catches in center. Drake ties for the league-lead in outfield assists with 8.
Surrey leads the team in overall wins with 6 followed by Chris Bishop of PLU and Sean Eberhardt of George Fox with 5. Jacob Schroeder of Washington State, Casey Bloomquist of Cal Poly and Andrew Naderer of Grand Canyon each win four games.
Perez registers a team-best six saves before joining the starting rotation in the postseason. Choate finishes with five saves. Both pitchers enjoy break-out summers, and Perez delivers a season-ending epic masterpiece, a two-hit shutout of Wenatchee in the WCLCS finale, which arguably matches Kyle Parker's shutout of the Mat-su Miners in the 2004 NBC World Series title game as the Knights' most magnificent mound performance during the postseason.
Thirteen Knights' alums are selected in the 2013 Major League Baseball draft.
The hometown team posts a 30-4 mark at Goss Stadium and finishes the season on a 21-game home win streak.
Corvallis' 37 league wins bumps their nine-year WCL total to 285, the most in the league. Wenatchee ranks second with 270. And the Knights even the all-time Corvallis versus Wenatchee series at 36-36.
WCL champions.