Roster | Transactions | Front Office | Mission | Stats | Team History
Knights in the Pros | Knights in College | Alumni
About the Knights
1990 - 1991 - 1992 - 1993 - 1994 - 1995 - 1996 - 1997 - 1998 - 1999
2000 - 2001 - 2002 - 2003 - 2004 - 2005 - 2006 - 2007 - 2008 - 2009
2010 - 2011 - 2012 - 2013 - 2014 - 2015 - 2016
Team Highlights
Individual Honors
Career Single Season Leaders
Career Single Season Leaders (wood bat)
Single Season Leaders by Year
Team Season Totals by Year
Coaches Listing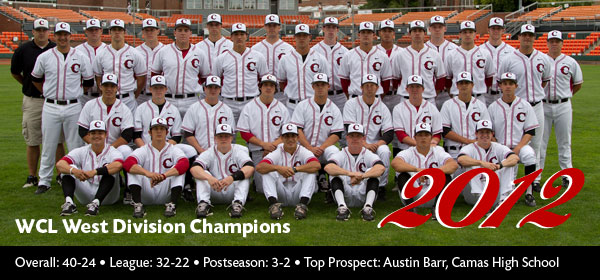 An 8-3 loss to the Wenatchee AppleSox in game three of the WCL Championship Series after the Knights took game two prevented the 2012 Corvallis Knights from repeating as West Coast League champions. But the team's sixth summer in Corvallis was successful on almost every front. They went 40-24 overall and were ranked #21 in Perfect Game USA's final college summer baseball Top 50 rankings. The Knights claimed the West Division pennant for the sixth year in a row, and then swept Cowlitz in the West Division playoffs to advance to the Championship Series for the fifth time in the past six seasons. They also had a WCL West-best seven all-stars; pitched the team's first no-hitter since the inception of the WCL, and came within a whisker of setting an all-time attendance record for the sixth straight season. The Knights started quickly; a 12-game winning streak left them at 18-6 and well ahead of their West Division challengers. However, a team-record seven-game losing streak from July 2-7 enabled Bend and Klamath Falls to get back into contention and both teams had a chance to take the lead with wins over the Knights. Corvallis led Bend by half-game before a 5-3 victory over the Elks on July 19. And the Knights held a slim one-game edge over Klamath Falls before a 10-1 rout of the Gems on July 26 at Goss restored a two-game bulge. At that point, the Knights caught fire. They went 8-2 in their final 10 WCL games to comfortably capture the division title. They then eliminated Cowlitz before falling to Wenatchee in the third game of a very competitive Championship Series.
Highlights:
Knights win 40 games for the third time in history (40-24) by going 32-22 in WCL games, 5-0 in nonconference games, and 3-2 in the playoffs.
Corvallis draws 41,834 fans, the second-highest total in franchise history, with three crowds of 2,100 or more. The Knights averaged 1,300 fans per league game, third-best in the WCL and 36th-best nationally.
Outfielder Connor Hofmann of Oregon was named the WCL All-Star Game MVP. Austin Barr of Camas High, Jorge Perez of Grand Canyon, Rob Dittrick of Pacific, Caleb Whalen of Portland, Nate Blackham of Washington State and Devon Barker of Centralia College also made the all-star team, which was coached by Corvallis skipper Brooke Knight and pitching coach Connor Lambert.
Greg Mahle of UC Santa Barbara pitches the first 9-inning no-hitter in Corvallis Knights history in a 14-0 win over Cowlitz on Aug. 3. He also went 4-for-5 as a hitter.
Knights lead the WCL in ERA (2.81), and set a WCL record for stolen bases (105).
Pitcher Rob Dittrick of Pacific leads the WCL in ERA (1.10); infielder Marc Gallegos of Corban leads the league, and sets a team single-season record, with 21 steals in WCL play and 25 overall.
Utility man Greg Mahle and pitcher Rob Dittrick were named first-team All-West Coast League. Second baseman Marc Gallegos was a second-team selection and pitchers Dylan Stuart and Trevor Frank of UC Riverside and Stanford-to-be catcher Austin Barr and Nate Esposito of Oregon State earned honorable mention.
Future Stanford Cardinal catcher Austin Barr was ranked as the No. 10 pro prospect in the West Coast League by PG Crosschecker. Pitchers Greg Mahle (#11); Trevor Frank (#14) and Bryan Granger (#21) of Cal Poly are also ranked, as are third baseman Caleb Whalen (#22), and outfielder Connor Hofmann (#28).
Utility man Greg Mahle leads the Knights in hitting with a .337 batting average. Outfielder Nate Blackham (.311), infielder Marc Gallegos (.309) and outfielder Connor Hofmann (.301) also break the .300 barrier.
Fourteen current, former or future Knights were selected in the 2012 Major League draft.
Corvallis wins 32 league games to increase its eight-year WCL total to 248, the most in the league. Wenatchee ranks second with 241.
WCL runners-up.