Roster | Transactions | Front Office | Mission | Stats | Team History
Knights in the Pros | Knights in College | Alumni
About the Knights
1990 - 1991 - 1992 - 1993 - 1994 - 1995 - 1996 - 1997 - 1998 - 1999
2000 - 2001 - 2002 - 2003 - 2004 - 2005 - 2006 - 2007 - 2008 - 2009
2010 - 2011 - 2012 - 2013 - 2014 - 2015 - 2016
Team Highlights
Individual Honors
Career Single Season Leaders
Career Single Season Leaders (wood bat)
Single Season Leaders by Year
Team Season Totals by Year
Coaches Listing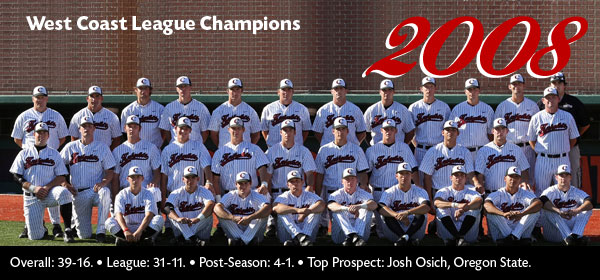 The Knights second season in Corvallis was record setting. The club shattered its total attendance mark, won the West, won its Divisional Series and captured its first West Coast League title while posting a league record 31 wins. Corvallis went 39-16 overall and swept Wenatchee in the WCCBL Championship Series. The Knights played very well at home recording a 22-6 record at Goss Stadium while drawing a franchise best 19,929 fans (640 per game). A season-high crowd of 1,632 attended Fireworks Night on July 3. Corvallis is 44-12 at Goss over two years. The entire season was broadcast on KTHH 990 AM The Legend. Mike Parker, the voice of the OSU Beavers, called all the action. GM Brooke Knight replaced Matt Dorey as the team's skipper and led the club to a championship in his first season of collegiate coaching.
Highlights:
Knights win eight straight regular season series before dropping its last road series in Wenatchee. Corvallis goes 15-3 vs. division foes Bellingham, Bend and Kitsap and records five series sweeps (four at home vs. Bend, Moses Lake, Wenatchee and Bellingham and one at Kitsap).
Corvallis scores 11 or more runs 7 times and twirls 8 shutouts.
OSU frosh southpaw Josh Osich goes 5-0, showcases his mid-90s fastball and is named the WCCBL's #2 prospect by Baseball America.
Corvallis leads the WCCBL in team defense with a .974 team fielding percentage and its 2.23 league team ERA is the WCCBL's lowest.
Outfielder Logan Lotti, a junior-to be at Oregon State, captures the (team) Triple Crown, only the fourth player to do so in club history, leading the Knights in hitting (.340), home runs (5) and RBI (25).
Junior southpaw Jared Eskew of Cal Poly is named WCCBL Pitcher of the Year. Eskew's 1.32 league ERA is the lowest in the WCCBL. Overall, Jared goes 4-0 with a 0.99 ERA.
Closer Taylor Starr of Oregon State is named the WCCBL All-Star Game's Top Prospect as voted on by MLB scouts and named by Carl Moesche of the MLB scouting bureau. The frosh from Longview, Washington registers 10 saves.
Lotti, Starr, Eskew, pitcher Jon Berger of San Diego State, junior pitcher Ryan Platt of UC Riverside and junior utility man Billy Clontz of Mt. Hood CC represent the Knights on the WCCBL West All-Star team.
On a team of aces, Jon Berger is named the team's Top Pitcher. The junior from Las Vegas led the club in starts with 10, innings pitched with 62.2 and strikeouts with 59 while going 4-0 and posting a 1.87 ERA.
Junior catcher Alex Burg of Washington State is named the team's MVP. Burg emerges as the team's leader and stops the running game (.523 SBA%) while handling the league's top staff.
Osich, Lotti, Eskew, Starr and Burg are named First-Team All-WCCBL. Berger, Platt, Clontz, frosh pitcher Eddie Orozco of UC Riverside, junior second baseman Josh Hogan of Mt. Hood CC, frosh shortstop Richie Jimenez of Riverside CC and sophomore third baseman Doug Cherry of University of Washington are named Second-Team All-WCCBL.
The Knights' bullpen is the team's strength led by Starr and frosh southpaw Liam Baron of Linn-Benton CC (4-1, 2.08), junior Anthony Carrillo of Long Beach State (2-0, 1.86), frosh southpaw Chris Brookey of UNC-Asheville (2-0, 2.76, 2 svs), sophomore Michael Cusick of Western Oregon, junior Ben Rue of Concordia (4-2, 2.70) and Geoff Nichols (1-1, 2.74, 2 svs), a junior-to be at University of Oregon.
For the first time in West Coast League play, the Knights take a season series from Wenatchee. Corvallis went 4-2 vs. the Sox. The Knights improved to 18-20 vs. the AppleSox after sweeping Wenatchee in the WCCBL Championship Series.
Starter Ryan Platt of UCR is dominant going 3-0 over 9 appearances and 7 starts. Platt strikes out 50 over 38.2 innings pitched and holds opposing hitters to a paltry .129 batting average. His 0.93 ERA would have led the team, but he lacked enough innings pitched to qualify.
Knights split a two-game series with the Humboldt Crabs at Arcata Baseball Park. Corvallis leads the career series 19-13.
Sophomore centerfielder Adam Melker of Cal Poly leads the team in steals with 19 and walks with 28. Melker also plays a stellar outfield posting a 1.000 fielding percentage and delivers a game-winning three-run double in the Knights' championship clinching 4-1 win over Wenatchee.
Knights set a franchise single-game strikeout record by registering 18 Ks vs. Bend at Goss in the Knights' 3-0 nine-inning win on July 2. Platt records 11 strikeouts, frosh southpaw David Stilley of Washington State registers 4 and Starr 3.
Corvallis calls up junior outfielder Bryant Kraus of University of Portland and frosh first baseman D.J. Johnson from its feeder team the Gresham Mountaineers to add firepower for the stretch run. Kraus hits .341 with 3 HR and 12 RBI and Johnson hits .267 with 2 HR and 9 RBI. Both are key contributors to the Knights' championship club. Kraus is named Gresham's MVP for the second straight season.
Knights are recipients of the inaugural Jim Dietz Team Sportsmanship Award as voted on by league owners and general managers.
Team president Dan Segel is named WCCBL Executive of the Year for a second straight season.
Skipper Brooke Knight is named WCCBL Coach of the Year.
Corvallis is ranked #5 by Perfect Game Crosschecker in the online publication's final National Summer Collegiate rankings.
WCCBL West champions.
WCCBL champions.