Roster | Transactions | Front Office | Mission | Stats | Team History
Knights in the Pros | Knights in College | Alumni
About the Knights
1990 - 1991 - 1992 - 1993 - 1994 - 1995 - 1996 - 1997 - 1998 - 1999
2000 - 2001 - 2002 - 2003 - 2004 - 2005 - 2006 - 2007 - 2008 - 2009
2010 - 2011 - 2012 - 2013 - 2014 - 2015 - 2016
Team Highlights
Individual Honors
Career Single Season Leaders
Career Single Season Leaders (wood bat)
Single Season Leaders by Year
Team Season Totals by Year
Coaches Listing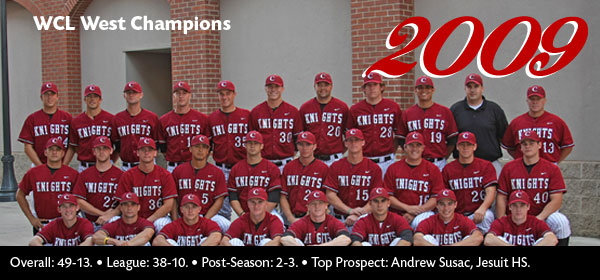 Year three in Corvallis was another record setting season for the Knights. The club set a league and Goss Stadium single-game attendance mark, won the West for a third consecutive season, won its Divisional Series, appeared in its third straight WCL Championship Series and shattered the league record for wins with 38. Corvallis went 49-13 overall and put together a 18-game win streak and a 22-game home win streak - both franchise bests. The Knights continued to play very well at home recording a team best 29-4 mark at Goss Stadium while drawing a franchise best 30,064 fans (911 per game). A Goss Stadium record crowd of 3,506 attended Fireworks Night on July 3, setting a new WCL single-game attendance record. Corvallis has posted a 73-16 three-year mark at Goss. For the first time, the Knights' entire season was broadcast on KEJO 1240 AM, the Mid-Valley's flagship sports station. Mike Parker, the voice of the OSU Beavers, once again called all the action.
Highlights:
Knights win 15 of 16 regular season series including 14 straight to finish the season. Corvallis plays its division foes 12 times each as the league goes to an unbalanced schedule for the first time.
Corvallis twirls 9 shutouts including 33 consecutive scoreless innings on the road (July 7-11) vs. WCL East division playoff teams Kelowna and Wenatchee.
UCR frosh right-hander Matt Andriese showcases his electric stuff, goes 7-0, posts a 1.38 ERA and is named the West Coast League Pitcher of the Year and is also named the league's #2 prospect by Baseball America. Andriese is the third Knight to earn WCL Pitcher of the Year honors joining Atlanta Braves ace Tommy Hanson (2005) and Florida Marlins prospect Jared Eskew (2008).
Corvallis sets new West Coast League single-season records for team defense and team pitching registering a league-high .975 team fielding percentage and league-low 2.22 team ERA.
Shortstop Richie Jimenez, a junior-to-be at UNLV, is named the West Coast League's Most Valuable Player, the team's first WCL MVP. Jimenez fields at a .961 clip, collects 166 assists and hits .333 with 8 doubles and 26 RBI to also earn team MVP honors.
Jimenez leads the league in hits with 57 and his .354 league batting average is second only to his teammate and league batting champion Taylor Ard.
Frosh first baseman Taylor Ard of Mt. Hood CC wins the league batting crown hitting .387 and also leads the WCL in RBI with 30. Ard captures the (team) Triple Crown, only the fifth player to do so in club history, leading the Knights in hitting (.359), home runs (5) and RBI (40).
Andriese wins the WCL ERA title (0.78). Andriese's teammate junior Steve Kalush of Santa Clara is second, posting a league ERA of 1.49.
Closer Liam Baron of Linn-Benton CC emerges as Coach Knight's go-to-guy leading the team in appearances with 25 while going 3-2 and collecting a team-leading 6 saves. The senior-to-be at Gonzaga shares team Top Pitcher honors with Andriese.
Catcher Andrew Susac, a frosh-to-be at Oregon State, is named the league's #1 prospect by Baseball America.
Andriese, Ard, Baron, Jimenez, junior third baseman Doug Cherry of Washington and frosh pitcher Kyle Kraus of University of Portland are named First-Team All-WCL. Kalush and junior outfielder Pat Colwell of San Diego State are named Second-Team All-WCL.
The Knights long-time nemesis the Wenatchee AppleSox sweep Corvallis in the WCL Championship Series to capture their third WCL crown. Wenatchee improves to 23-20 all-time vs. the Knights.
Ben Guidos of University of Washington is the team's most dominant pitcher down the stretch. The redshirt sophomore goes 7-0 over 14 appearances, 5 starts and 49 2/3 innings pitched. Guidos' 1.27 ERA is a team low and opponents hit a paltry .180 off the Husky southpaw.
Knights sweep its two-game series with the Humboldt Crabs at Arcata Baseball Park. Corvallis leads the career series 21-13.
Returnee outfielder Adam Melker, a senior-to-be at Cal Poly, joins the team late due to injury, but adds a late offensive boost hitting .391 with 5 doubles, 3 HR and 14 RBI (over 46 at bats).
Oregon State star frosh pitcher Sam Gaviglio (1-0, 0.00, 13 IP) turns in back-to-back scoreless starts to begin the season, but shoulder soreness cuts his summer short.
The Knights' bullpen is a team strength led by Baron (2.25), Guidos, junior Drew Leary of San Diego State (2-1, 0.90, 5 svs, .154 opp avg), sophomore Trevor Smith of Linn-Benton CC (6-1, 2.68, 17 app) and Kalush (4-2, 1.87, 4 svs).
Corvallis features the league's top infield defense with Jimenez, Cherry and three-year Knight Josh Hogan of University of Oregon flashing leather from beginning to end. Cherry only makes 5 errors at the hot corner fielding at a .973 clip and collecting 116 assists. At second base, Hogan only makes 3 errors, tallies 152 assists and posts a fielding percentage of .989.
Two-way player Dylan Jones, a junior-to-be at Oregon State, leads the team in starts with 54 (mostly in the outfield) and makes 12 appearances on the mound going 2-0 while striking out 31 over 21 2/3 innings pitched and posting a 4.15 ERA.
Kyle Kraus of University of Portland (6-2, 2.04) leads the team in starts with 10 and innings pitched with 70 2/3. Kraus' 6 WCL wins are a league high.
Four-year Knight Billy Clontz of Western Oregon, Colwell, Baron, Cherry, Hogan, Jimenez and Melker deliver extraordinary leadership. The aforementioned set the bar very high for future Knights' leaders. Colwell is the recipient of the Joe Segel Hustle Award.
Team president Dan Segel is named WCL Executive of the Year for a third straight season.
Skipper Brooke Knight is named WCL Coach of the Year for a second straight season.
Corvallis is ranked #8 by Perfect Game Crosschecker in the online publication's final National Summer Collegiate rankings. The Knights were ranked as high as #3 in early August.
WCL West champions.