Roster | Transactions | Front Office | Mission | Stats | Team History
Knights in the Pros | Knights in College | Alumni
About the Knights
1990 - 1991 - 1992 - 1993 - 1994 - 1995 - 1996 - 1997 - 1998 - 1999
2000 - 2001 - 2002 - 2003 - 2004 - 2005 - 2006 - 2007 - 2008 - 2009
2010 - 2011 - 2012 - 2013 - 2014 - 2015 - 2016
Team Highlights
Individual Honors
Career Single Season Leaders
Career Single Season Leaders (wood bat)
Single Season Leaders by Year
Team Season Totals by Year
Coaches Listing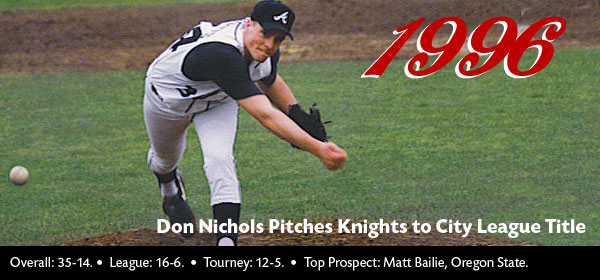 A third season in the City League proves to be a charm as the Knights win their first MABL championship. The team goes undefeated through the playoffs and Don Nichols earns his 12th win, beating the Camas Storm 13-1 in the City League championship game. The Knights' second annual charity game features ex-Major League stars and wood bats. The Knights beat the Hollywood Legends, a barnstorming exhibition team, and legendary starting pitcher and author Jim Bouton 11-1. The event, held at the Tualatin Hills Rec Center, raises $14,000 for the Parry Center for Children and Self Enhancement, Inc. (SEI). Four-time National League batting champion Bill Madlock goes 3 for 4, is the game jester and shares good times with fellow legends Derrel Thomas (Los Angeles Dodgers), Steve Kemp (Detroit Tigers), Todd Cruz (Seattle Mariners) and Lee Lacy (Pittsburgh Pirates). The Knights Rose City Invitational success continues as they win three tough games vs. Tacoma, Taylor Electric and Portland Wildcats only to lose in the championship game to Tacoma who came through the loser's bracket to beat the Knights in a single elimination championship game. The Knights lose another championship game, this time to the Portland Wildcats, in the National Collegiate Baseball League's (NCBL) four-team tourney at University of Portland. The Knights travel to the 1996 PIL Tournament in Kelowna, British Columbia with only 11 players and miraculously come close to winning its pool going 2-1.
Highlights:
Dan Segel claims first team Triple Crown with .414 batting average, 14 homeruns and 46 RBI.
Knights deliver valiant short-handed effort in PIL Tournament. Don Nichols wins two starts over three days. Joe Segel goes 3 for 4 in a 14-9 victory over the Yakima Chiefs. Rod Scheckla hits two homeruns in a 4-2 victory over the Coquitlam Athletics. Jeff Post takes a shutout into the late innings vs. West Seattle before losing steam as the Cruisers comeback from a 5-1 deficit in the final frame to walk-off with a 6-5 win.
Aloha starts 2-0 in the U.S. Open Baseball Tournament in Reno, Nevada before getting ousted by the Sacramento Sultans by a 15-0 score. The shellacking is the worst Knights tournament defeat on record.
Left-hander John Power turns in a stellar season posting a team leading 3.02 ERA and 5-1 record.
Knights crush 10 homeruns in a single game vs. the Ontario Orchard MeadowLarks at Aloha High School. 6 players go deep in a 15-2 victory. Troy Babbitt, Robb Carabba, Gary Peters and Dan Segel each hit two homers.
Knights split 4 games with the Tacoma Timbers. Tacoma places 2nd in the NBC World Series in Wichita, Kansas. Over 5 years (1994-1998), the Knights post a 7-6 record vs. Tacoma.
MABL champs.