Roster | Transactions | Front Office | Mission | Stats | Team History
Knights in the Pros | Knights in College | Alumni
About the Knights
1990 - 1991 - 1992 - 1993 - 1994 - 1995 - 1996 - 1997 - 1998 - 1999
2000 - 2001 - 2002 - 2003 - 2004 - 2005 - 2006 - 2007 - 2008 - 2009
2010 - 2011 - 2012 - 2013 - 2014 - 2015 - 2016
Team Highlights
Individual Honors
Career Single Season Leaders
Career Single Season Leaders (wood bat)
Single Season Leaders by Year
Team Season Totals by Year
Coaches Listing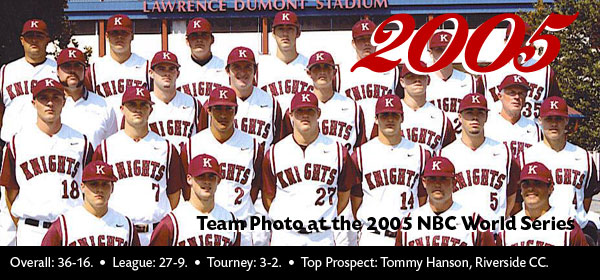 Arguably the most talented team in franchise history posted an impressive West Coast Collegiate Baseball League (WCCBL) first-year 27-9 record (36-16 overall) and finished 4th at the 71st NBC World Series in Wichita, Kansas. The Knights joined the new summer collegiate league with the Bellingham Bells, Bend Elks, Kelowna Falcons, Kitsap BlueJackets, Spokane RiverHawks and Wenatchee AppleSox. The Knights featured great pitching and defense, and led the WCCBL in Team ERA (2.23) and Team Fielding Percentage (.967). The club's starting rotation, the league's best, featured 22nd round draft pick Tommy Hanson of Riverside CC, Bud Norris of Cal Poly SLO, Zach Bird of Mt. Hood CC, All-Pac-10 honorable mention right-hander Brandon McKerney of University of Washington, Freshman All-American Matt Hague of University of Washington and Nick Waechter of Western Oregon and the bullpen featured right-handers Daniel Turpen of Oregon State and Garrett Parcell of Cypress College. The team pulled off a historic three-game sweep of the Humboldt Crabs at Arcata Baseball Park and swept six games from its archrival Bend Elks. The sweep of the Crabs was a first as Humboldt had never been swept in its storied 61-year history. Aloha finished second in league to the Wenatchee AppleSox as the Knights only lost two series all year - both to the Sox. In the off-season, Aloha opted out of the WCCBL post-season to defend its NBC title. At the Series, the Knights won its first three games to stretch its NBC win streak to 10 and earned a spot for the second straight year in Wichita's Sweet Six. Even after winning a national championship, the club's attendance declined.
Highlights:
Knights win 10 of 12 WCCBL series sweeping regular season series vs. Bend, Kitsap and Spokane.
Aloha win its first 9 WCCBL series and recorded league win streaks of eight, six and five. At one point, the Knights won 22 of 25 league games.
Outfielder Wally Crancer of Riverside CC and pitchers Tommy Hanson, Bud Norris and Zach Bird are named First-Team All-WCCBL.
Three Knights are awarded WCCBL Rawlings Gold Gloves: first baseman Bill Rowe of UC Santa Barbara, catcher Adam Hackstedt of Concordia and centerfielder Zach Borba of Columbia Basin College.
Rowe and Darin Holcomb of Gonzaga prove to be the best corners in Knights history. Rowe led the league in chances with 289 and putouts with 264.
The team's catching tandem of Hackstedt and Erik Ammon of University of Hawaii is arguably the best catching duo in team history. Hackstedt registered a 1.000 fielding percentage and Ammon a league leading .429 SBA%.
Zach Borba, a 24th round pick of the Texas Rangers, is brilliant in centerfield and arguably the best to ever play that position for Aloha.
The Knights historic sweep of the Humboldt Crabs improves their six-year career regular series mark vs. the Crustaceans to 13-10.
Aloha steals home twice during the season. Catcher Erik Ammon did it at Kitsap and utility man Andy Lentz of University of Washington pulled off a rare steal of home at Oslund Field vs. Wenatchee.
Tommy Hanson's summer performance is spectacular. He shattered the club's ERA record (0.92) and set the new wood bat strikeout and innings pitched marks with 116 and 78, respectively. Hanson led the league in ERA and strikeouts.
Hanson's summer honors:
WCCBL Pitcher of the Year
First-Team All-WCCBL
Earned team's "Top Pitcher Award"
Baseball America #1 WCCBL prospect
First-Team College Summer All-America
All-NBC World Series
"Leading Pitcher" at the NBC World Series
Wally Crancer puts on an offensive and defensive show all summer earning Wally Team MVP and All-WCCBL honors. Crancer hit .328 to earn WCCBL DeMarini All-Performance honors and was second in the league in hits with 43. The sweet swinging left-handed hitting rightfielder led all league outfielders with 10 assists.
Southpaw Broc Coffman of Lower Columbia College is drafted and signed by the Texas Rangers after two special pre-season performances.
Hanson, Norris and Bird combine to go 21-3 over 29 starts with Bird's ERA at 1.65 and Norris' at 1.09. Norris struck out 75 over 66 innings and Bird 80 over 71. Hanson (1.12), Norris (1.20) and Bird (1.60) posted the three lowest league ERAs. Norris tied for the league lead in wins with 6 and was named the WCCBL's #3 prospect by Baseball America.
Knights carry an all-time low roster of 20 players for the bulk of the season.
Aloha leads the league in stolen bases with 50. Borba leads the team with 10 WCCBL bags.
Knights lead the league in sacrifice hits with 48 and are last in double plays grounded into with 18.
Closer Garrett Parcell leads the league in appearances with 16, games finished with 16 and games in relief with 16.