Roster | Transactions | Front Office | Mission | Stats | Team History
Knights in the Pros | Knights in College | Alumni
About the Knights
1990 - 1991 - 1992 - 1993 - 1994 - 1995 - 1996 - 1997 - 1998 - 1999
2000 - 2001 - 2002 - 2003 - 2004 - 2005 - 2006 - 2007 - 2008 - 2009
2010 - 2011 - 2012 - 2013 - 2014 - 2015 - 2016
Team Highlights
Individual Honors
Career Single Season Leaders
Career Single Season Leaders (wood bat)
Single Season Leaders by Year
Team Season Totals by Year
Coaches Listing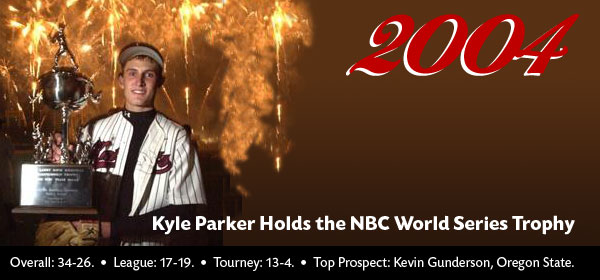 After fighting through a tough mid-season stretch, the Knights regrouped to win 18 of its final 25 games and the third annual All-American Invitational to earn a berth in the 2004 NBC World Series. At the Series, the Knights made history by winning the title game 7-0 to go 7-0 at the 70th NBC World Series. The Knights are the first Series champion from Oregon since the Drain Black Sox in 1958 and first team to go undefeated in Wichita since Team USA in 1995. It was definitely a year of firsts for Aloha. The 2004 Summer National Champions won its first All-American Invitational, first national championship and placed its first player on Baseball America's Summer All-American Team, right-handed sophomore-to be pitcher Kyle Parker of University of Washington. The club also featured its second league MVP, 2004 PIL MVP Aaron Coiteux of Concordia University. The championship season also showcased a new identity that included new team colors, a new logo and new Nike uniforms. The organization also partnered with the University of Oregon Warsaw Sports Marketing Center to launch an internship program that featured five Duck students. The interns and Mack the Knight, the team's first mascot, promoted the club in the Gresham area and created excitement at the park. Three regular season crowds of over 200 (with a high of 234) enjoyed summer collegiate baseball at Oslund Field.

Highlights:
Knights win the 70th NBC World Series.
Nate Fogle of Mt. Hood CC, Geoff Loomis (manager), Kaeo Rubin of Washington State and JJ Stolsig of Linfield College are named All-NBC World Series.
Knights named Best Dressed Team and also receive awards for Best Defensive Team and Best Pitching Staff at the 2004 NBC World Series.
At the Series, Aloha beats four league champions including the Alaska Baseball League champion Mat-su Miners in the title game. Other champs to fall are the Jayhawk League champion El Dorado Broncos, California Coastal Collegiate League champion Santa Barbara Foresters and Western League champion Southern California Fire.
Knights commit only 2 errors in 7 Series games and post a Series low 1.66 team ERA.
Andrew Lefave of Edmonds CC receives Most RBI Award for collecting a Series high 9 RBI.
Kyle Parker of University of Washington tosses a 5-hit shutout in the NBC championship game while striking out the NBC World Series MVP Scott Simon of Mat-su 4 times.
Kaeo Rubin's twelve-inning game-winning RBI single vs. El Dorado gives the Knights a dramatic 3-2 quarterfinal win and propels Aloha to NBC World Series title game. The hit is arguably the biggest in Knights history.
The Knights' bullpen shines in Wichita as Ben Bracelin of Western Oregon, Kevin Gunderson of Oregon State and Josh McLaughlin of University of Georgia combine for 9 appearances, 17 innings, 1 win, 2 saves, 18 strikeouts and only 2 earned runs.
Knights are only third team from Northwest to ever win the NBC World Series joining the Drain Black Sox (1958) of Oregon and the Everett Merchants (1988) of Washington as NBC Champions.
Knights host its third annual All-American Invitational NBC World Series qualifying tournament at Mt. Hood CC. For the first time, the host club performs well and beats a 12-team field that includes the Humboldt Crabs, Seattle Studs, Southern California Fire, Kelowna Falcons, Portland Kings, Portland Wildcats, Kirkland Kodiaks and Everett Merchants. Aloha's title run features wins over the Seattle Studs in pool play and the Kelowna Falcons in the AAI championship game. Both teams swept the Knights in league play.
Kaeo Rubin is named AAI MVP as the senior-to be from Washington State hits .450 with 7 RBI. Rubin's clutch semi-final game-winning double plates the lone run in the Knights 1-0 victory over the Portland Wildcats.
Nate Fogle of Mt. Hood CC tosses 7 scoreless innings and strikes out 11 in the Knights 1-0 semi-final win to earn AAI Top Pitcher honors.
Jesse Rodgers' shortstop play and timely offense is critical to the Knights AAI championship. Rodgers of University of Portland hits .357, tallies 17 assists and does not commit a single error in the tournament.
Kyle Parker earns a complete game and red pool clinching win vs. Seattle and strikes out 12 in the Knights 7-1 victory over the Studs.
Attendance for the tournament increases as 1,776 fans enjoy a weekend of great baseball and ballpark fun including Humboldt's Crab Grass Band.
The Knights split with the Humboldt Crabs capturing the final two games at Arcata Baseball Park to even its five-year career series with the Crustaceans at 10-10.
Aloha wins their first two "Best in the West" tournament games at San Jose State, but loses its final pool play game to the Maxim Yankees 9-3 finishing in a three-way tie for first at 2-1. The tie-breaker goes to the host Yankees and Maxim goes on to win the tournament championship game played at Stanford University. Aaron Coiteux and first baseman Scott Nelson of Oregon State are named All-Best in the West.
Aaron Coiteux, Nate Fogle, Kyle Parker and Kaeo Rubin are First-Team All-PIL picks.
Thirteen Knights are selected in the 2004 MLB June draft and two Knights, John Otness of University of Washington and Jaymie Torres of University of California, Riverside, sign free agent contracts after the draft with Red Sox and Cardinals, respectively.
Aaron Coiteux is named the Knights' MVP and PIL MVP. Coiteux also wins the team's Joe Segel Hustle Award and plays great outfield in the regular season and a solid second base at the NBC World Series. In the greatest single offensive season turned in by a Knight, Aaron leads the team in 12 offensive categories: Average (.387), Bats (199), Runs (47), Hits (77), Doubles (77), Triples (3), RBI (37), TB (104), Slugging Percentage (.523), HBP (22), OBP (.500) and Stolen Bases (20).
Shane Crowder of University of Illinois at Chicago and Colby Summer of University of Hawaii are unofficial team captains and lead Aloha to a national championship. Both contribute as outfielder and pitcher, respectively, and both turn in clutch AAI and NBC performances.
The 2004 Knights post the franchise's first league losing record going 17-19 in the PIL.
The season features two 7-game losing streaks and a 7-game and season-ending 8-game win streak. The team's bullpen struggles in the regular season as the Knights lose 9 games in the final inning.
The Knights run of outstanding Kamloops International Baseball Tournament performances ends as Aloha stumbles losing two one-run games in one day to go 0-2 at the double-elimination tourney.
Knights sweep the Calgary Stampede Series as Aloha wins the finale 11-10 after coming back from a 9-0 deficit.
Robby Hudson of University of Texas returns for the final three weeks of the season. At Kirkland, Hudson homers twice in the club's final loss of the year and is the defensive leader in Wichita. His shortstop play was spectacular and deserved All-NBC recognition.
Hudson and Coiteux both compete in spring and summer World Series, Hudson with Texas at the NCAA College World Series in Omaha and Coiteux with Concordia at the NAIA World Series in Lewiston.
Fogle and Parker are arguably two of nation's top pitching prospects and arguably the Knights best #1 and #2 combo in franchise history. They are named Knights' co-Top Pitchers as Fogle goes 5-1 with a 1.11 ERA and Parker 7-1 with a 2.07 ERA. Fogle is named All-NBC World Series and Parker Second-Team Summer All-American by Baseball America.