Two Corvallis Knights Make Baseball America Top Ten WCL Prospects List.
September 15, 2014
Dalton Kelly of UC Santa Barbara and Justin Calomeni of Cal Poly Rated #5 and #7, Respectively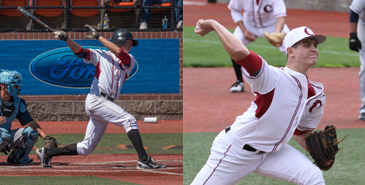 Baseball America released its top ten WCL prospects list this past Friday, September 12th for the 2014 season.
Two Corvallis Knights made the listing including first-team all-WCL utility man Dalton Kelly of UC Santa Barbara and starting pitcher Justin Calomeni of Cal Poly.
Kelly led Corvallis in batting with a .336 WCL average and in triples with 4; and the junior-to-be blasted 7 league homers and collected 34 RBIs while playing stellar defense at first base.
Calomeni started 7 games and went 1-3 with a 4.33 WCL ERA. Justin, a sophomore-to-be, struck out 37 and walked only 12 over 45.2 WCL innings and 10 appearances.
For a complete listing of the West Coast League's top ten 2014 prospects as listed by Baseball America, please click here.