Jared Eskew Named WCCBL Pitcher of the Year.
August 25, 2008
Corvallis Tallies Four of Five 2008 WCCBL Honors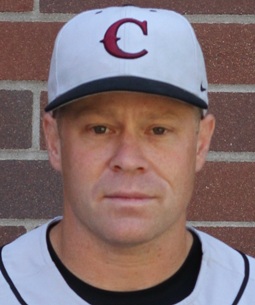 Corvallis ace Jared Eskew of Cal Poly was named WCCBL Pitcher of the Year as announced by WCCBL president Ken Wilson on Monday, August 25. The lefty from Bakersfield, California posted the league's lowest ERA at 1.32. Eskew went 3-0 in league over six starts and won game two of the West Divisional Series vs. the Bend Elks.
For the summer, Eskew went 4-0 with a miniscule 0.99 ERA. The opposition hit a paltry .185 vs. the senior-to be and Eskew struck out 46 over 8 starts and 45 2/3 innings pitched while walking only 13.
Jared made 17 appearances and 9 starts last spring going 5-4 while posting a 4.11 ERA for the Mustangs.
Head coach Brooke Knight (pictured) was named WCCBL Coach of the Year. Knight guided Corvallis to its first WCCBL title and the league's top record at 31-11. Knight won 39 games in his inaugural campaign as the Knights' skipper.
Team president Dan Segel was named WCCBL Executive of the Year for a second straight season. Segel's Knights set a new WCCBL single-season record for wins with 31 and the Knights' total attendance increased by 5,000 in 2008 to a record 17,929.
Corvallis also was the first recipient of the Jim Dietz Team Sportsmanship Award given to the WCCBL team that displayed the best sportsmanship on and off the field as voted on by league general managers and coaches.