Taylor Starr of OSU Named All-Star Game Top Prospect.
July 29, 2008
Starr Tosses Two Hitless Innings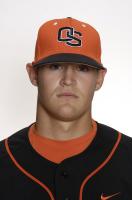 Knights' closer Taylor Starr of Oregon State pitched two hitless and scoreless innings at the 2008 WCCBL All-Star Game in Moses Lake on Tuesday, July 21. Starr was dominating and earned "top prospect" honors as voted on by the MLB scouts in attendance and announced by Carl Moesche of the Major League Scouting Bureau.
Starr hit 94 MPH on the radar gun several times and did not allow a hit while walking one and striking out one.
Starr wasn't the only Knights' pitcher that shined at the All-Star Game. Junior Ryan Platt of UC Riverside started the game for the West and tossed a scoreless first. Juniors Jon Berger of San Diego State and Jared Eskew of Cal Poly also pitched scoreless innings as Berger pitched the third and Eskew the fourth.
Junior-to be Logan Lotti at Oregon State participated in the All-Star Game homerun derby and made the semi-final round as Lotti blasted four homers in the first round. Logan went 0 for 3 in the game and scored a run.
Lotti currently leads the WCCBL in hitting with a .317 batting average (as of July 28).
Billy Clontz of Mt. Hood CC also represented the Knights in the All-Star Game going 1 for 4 with a single in the first inning.
Taylor Starr leads the league in saves with 7 and is tied for the Knights lead in appearances with 14 (as of July 28). The frosh from Longview, Washington is 0-2 with a 3.12 ERA.
This past spring, Starr made 16 appearances for the Beavers and went 3-1 over 22 1/3 innings pitched while posting a 1.61 ERA and registering one save.
The "top prospect" at the 2007 WCCBL All-Star Game was also a Knight as Matt Way of Corvallis was honored. Way, a senior-to be at Washington State, was picked in the 36th round of the 2008 MLB June draft by San Francisco.