Knights Face Elks in West Divisional Series.
August 10, 2009
WCL ERA Leader Matt Andriese of UCR to Start Game One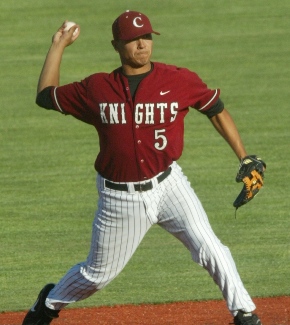 The Corvallis Knights wrapped arguably their best regular season in franchise history with a three-game series sweep of Bend. The wins over the Elks improved the Knights overall record to 47-10 and league mark to 38-10 and vaulted the West Division champs to #3 in the latest Perfect Game Crosschecker national rankings released on Tuesday, August 11th.
Corvallis broke its own league record for most wins in a WCL season with 38. Last summer's team set the benchmark with 31.
In 2001, the Knights went 24-5 in league and 54-14 overall.
The Knights back-to-back quest starts Tuesday night in Bend, Oregon at Vince Genna Stadium as Corvallis and the Elks lock horns again.
Last season, Corvallis opened the postseason at Bend and lost game one of the West Divisional Series, but came back to take two and three at Goss Stadium to advance to the WCL Championship Series where the Knights swept Wenatchee to earn their first West Coast League title.
Head coach Brooke Knight is sending frosh right-hander Matt Andriese of University of California, Riverside to the mound to start the first game. He'll face Oregon State hurler Nick Stiltner from Eugene, Oregon.
This summer, Andriese went 5-0 with a league-low 0.78 ERA and emerged as the team's ace.
The Knights set WCL team records this season by posting a single-season low ERA of 2.22 and the defense also set a record with a single-season high fielding percentage of .975.
The best infield defense in the WCL is led by returnees shortstop Richie Jimenez of Riverside CC, second baseman Josh Hogan of University of Oregon and third baseman Doug Cherry of University of Washington.
The three amigos are flashing "gold glove" leather much to the delight of the Goss Stadium faithful.
Jimenez (pictured), Hogan and Cherry led the league in fielding at their respective positions.
While pitching and defense defined the #6 ranked team in nation (as released by Perfect Game Crosschecker on Wednesday, August 5), the offense was potent leading the league in hitting with a .279 team batting average.
Jimenez hit .354 in the WCL, second in the league, and led the WCL in hits with 57.
Corvallis slugger Taylor Ard, the 2009 NWAACC Player of the Year, captured the WCL batting crown with a .387 average and also led the league in RBI with 30. And Taylor was tied for second in the league with 11 doubles.
DJ Johnson of Mt. Hood CC (.316), Cherry (.313) and Brent Warren (.312) of OSU were 10th, 11th and 12th in the league in batting.
The pitching staff was decimated by injury losing stars like Sam Gaviglio of Oregon State, Dustin Emmons of UC Riverside and James Nygren of Oregon State, but its depth and the emergence of arms like Trevor Smith (6-1, 2.84) of Linn-Benton CC, closer Drew Leary (2-1, 1.00, 3 saves) of San Diego State and southpaw Ben Guidos (6-0, 1.50) of University of Washington kept the Knights' pitching strong and formidable.
Steve Kalush (4-1, 1.32, 4 saves) of Santa Clara, a senior-to be right-hander from San Mateo, California, posted a league ERA of 1.49, second only to his teammate Matt Andriese.
Kyle Kraus (6-1, 2.19) of University of Portland, the probable starter for game two of the West Divisional Series, tied for the league lead in wins with 6 with Trey Watt of Kitsap. Andriese and Smith of Linn-Benton CC were tied for second with 5 league wins.
Kraus' 2.24 ERA was 10th best in the league.
Knights' lefty Liam Baron (3-2, 2.67) of Linn-Benton CC was third in the WCL in saves with 6.
Game two of the WCL West Divisional Series is scheduled for Wednesday, August 12th at Goss Stadium where the Knights went 28-2 during the regular season.
Corvallis fans set a new WCL single-game attendance mark on July 3rd with a crowd of 3,506. Total attendance for the 2009 regular season was 27,282 for an average of 909 per game.
"We hope to finish what we started," said skipper Brooke Knight. "This is a very special group. We'll be ready to go."