Five Knights Alums Named MLB.com Top Prospects.
March 9, 2017
Haniger, Sherfy, Ice, Nogosek and Chase Johnson Listed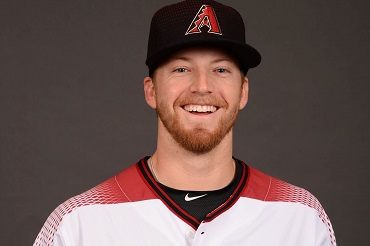 Five Corvallis Knights alums made
MLB.com's
annual list of the top 30 prospects in their respective major league organizations.
The Knights on the rise are:
* Outfielder Mitch Haniger (2010), an ex-Cal Poly star who is ranked as the No. 4 prospect in the Seattle Mariners minor-league system.
* Right-handed pitcher Jimmie Sherfy (2011), a University of Oregon product ranked No. 13 in the Arizona organization.
* Catcher Logan Ice (2014), an ex-Oregon Stater who is ranked as the 22nd-best prospect in the Cleveland organization.
* Pitcher Stephen Nogosek (2013), the No. 24 prospect in Boston's minor-league system. He also played at Oregon.
* Right-handed pitcher Chase Johnson (2011), a teammate of Haniger's at Cal Poly who is ranked No. 25 in the San Francisco organization.
Originally selected by Milwaukee in the supplemental first round as the 38th pick of the 2012 draft, Haniger was subsequently traded to Arizona. He made his major-league debut with the Diamondbacks in 2016 after being named Arizona's Minor League Player of the Year. Seattle acquired him in the offseason.
Said MLB.com:
"Haniger generates hard contact to all fields from the right side of the plate through a combination of physical strength, plus bat speed and a sound swing. He tapped into his above-average raw power more consistently last season, setting a career high with 30 home runs between the minor and major leagues after adding a more pronounced leg kick to his swing.
"He has a good approach, recognizes pitches well and isn't afraid to take a walk. Haniger's athleticism and average speed make him a capable defender at all three outfield positions, and he has the plus arm strength needed for right field at the highest level.
"Although he has the floor of a productive fourth outfielder, there are many who believe that Haniger's newfound power will thrust him into an everyday role."
He was first-team all-West Coast League in 2010, and was ranked as the WCL's No. 4 pro prospect by Perfect Game and the No. 5 prospect by Baseball America.
A 10th-round selection in the 2013 draft, Sherfy has steadily risen through Arizona's organization. He spent the second half of 2016 with Reno in the triple-A Pacific Coast League and totaled 30 saves overall, second among all minor-league pitchers.
Said MLB.com:
"He [has] a fastball that sits in the mid-to-upper 90s with a ton of life and an above-average slider that is unhittable at times. His changeup is clearly his third pitch, and he's started using it more, throwing it with splitter action. He can miss bats with all three and has shown he can throw multiple innings without losing any of his stuff.
"Sherfy continues to learn how to prepare himself to pitch every night and maintain his strength for the entire season. He's just about ready to impact the big league bullpen, with the ceiling to close games at the highest level if he can continue to throw enough strikes."
He was ranked No. 4 by Baseball America and No. 7 by Perfect Game on their WCL top pro prospects list after the 2011 season.
A second-round pick in 2016 after his junior year at OSU, Ice quickly signed with the Indians. He spent his first season in pro ball at Mahoning Valley in the short-season New York-Penn League.
Said MLB.com:
"He lacks physicality and has only average bat speed, scouts are skeptical about his power translating in the minor Leagues. On defense is where Ice really shines, and there's little doubt that the former Pac-12 Defensive Player of the Year can stick behind the plate.
"He has average receiving skills and an average arm that has been effective at times in controlling the running game. The floor might be higher than the ceiling with Ice, but there's a lot to like in a guy who could develop into a solid backup catcher, possibly even a starter."
An honorable-mention all-WCL selection in 2014, Ice was ranked the WCL's No. 14 by Perfect Game.
Nogosek pitched and played infield for the Knights but concentrated on pitching at Oregon, where he developed into a Pac-12 all-star. He also signed last June after being selected in the sixth round, and then played for played for Lowell in the NY-P and Greenville in the low-A South Atlantic League.
Said MLB.com:
"Nogosek has more pitches than a typical reliever, using two versions of a fastball and both a slider and a cutter. He can sink a two-seam fastball in the low 90s and has more success with a four-seamer that reaches 96 mph and has an excessive spin rate that allows it to dodge bats up in the strike zone.
"Both his mid-80s slider and upper-80s cutter can be plus pitches at times, and he also can mix in a changeup with some fade. Nogosek's control of his pitches fluctuates at times, but he generally throws enough strikes to keep himself out of trouble.
"The Red Sox pushed him to low Class A in his pro debut, and he pitched well there with the exception of one six-run outing. If he continues to miss bats like Boston thinks he can, he'll advance quickly."
Nogosek was a freshman-to-be at Oregon when he played for the Knights. Still, he was ranked as the WCL's No. 14 pro prospect by Perfect Game as an 18-year-old.
Johnson was San Francisco's surprise third-round selection in the 2013 draft. He spent last season at Richmond in the double-A Eastern League, and was added to San Francisco's 40-man roster this winter to protect him from the Rule 5 draft.
Said MLB.com:
"Johnson had decent success as a starter, his lack of quality secondary pitches makes him better suited for relief work. His fastball sits at 94-96 mph and can climb to 98 with heavy sink, allowing him to miss bats and generate groundouts.
"His slurvy breaking ball looked more like a curve and had its moments in 2016, and he also has a fringy changeup. After working exclusively out of the stretch in college, Johnson has incorporated a windup in pro ball.
"He hasn't had any more problems throwing strikes but lacks fine command, so he can be fairly hittable. He'll need to prove he can stay healthy after missing a month each with forearm and shoulder issues last year."
Chase was a West Division all-star in 2011 and was rated the No. 5 WCL prospect by Perfect Game and No. 9 by Baseball America after helping lead the Knights to the WCL championship.
Also, three players who signed with the Knights but either chose to turn professional or didn't make it to Corvallis because of injury earned top-30 organizational rankings.
* Catcher Carson Kelly is the No. 2 prospect in the St. Louis organization. Ticketed to play at Oregon, he signed in 2012 after his senior year at Westview High School in Beaverton after being selected in the second round of the MLB draft.
* Third baseman Kevin Padlo is Tampa Bay's No. 19 prospect. A University of San Diego signee projected for our 2014 team, he turned pro after being taken by Colorado in the fifth round of that year's draft. He was traded to Tampa Bay before the 2015 season.
* Cal Poly catcher/infielder Brian Mundell, a projected 2013 Knight who instead sat out that summer because of an injury, is ranked No. 25 in the Colorado organization.