MLB Pitchers and Catchers Report to Spring Training This Week.
February 16, 2017
Knights Alum Matt Boyd of Detroit Eager to Get 2017 Season Started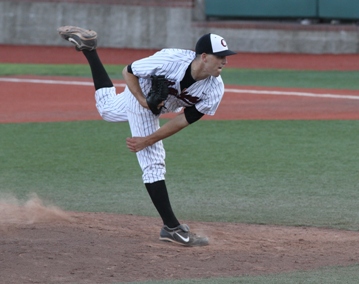 Matt Boyd (pictured with the Corvallis Knights in 2010) often stops to take a look around and appreciate what he has while standing on the pitching mound at Comerica Park, Yankee Stadium, Fenway Park or whatever venue the former Corvallis Knights standout finds himself working in that day.
"I do [take stock] every time I go out there," said Boyd, a 26-year-old left-handed pitcher from Bellevue, Wash., who played for the Knights in 2010 following his frosh season at Oregon State.
"That's me being grateful that I get to live out my childhood dream. I'm very blessed that God has given me this opportunity and I don't want to take it for granted.
"Every day I say, 'Thank you.' It is special to look up the stands and see 50,000 people all wearing the same jersey you are. It is cool."
Boyd recently returned to Corvallis for OSU's annual Dugout Club Diamond Dinner. One of three members of the 2010 Knights to make the major leagues, he'll compete against former Knights teammates Matt Duffy (Tampa Bay) and Mitch Haniger (Seattle) during the upcoming American League season.
"My wife and I love coming back" to Corvallis, he said. "This is a second home to us, it's just awesome."
Boyd said he is optimistic heading into spring training with the Tigers at the Lakeland, Fla., complex, which underwent a $42 million renovation over the winter.
"I love the Tigers they are a perfect fit. I love the team and I love the organization," he said. "We have great fans in Detroit. They are passionate, the love their baseball, and it is fun to play for them."
Tigers fans should see a lot of Boyd this summer. The Detroit News recently reported that Matt has the early edge for the fifth starting spot in the rotation.
"Boyd appears to be the early leader for the No. 5 starter job, but he'll have to fend off some veteran challengers in spring training. Boyd had an up-and-down 2016 season, which isn't uncommon for young pitchers, and finished with a 6-5 record to go along with a 4.53 ERA.
"The Tigers like how he finished the year, however, and he seems to have the early edge on veterans Anibal Sanchez and Mike Pelfrey for the final rotation spot."
Boyd said newspaper reports notwithstanding, he knows he has to earn everything he gets.
"I'm in a position battle, fighting for one of the last two rotation spots. Outside of that, it is out of my control," he said. "It was fun being part of a playoff race [in 2016], pitching in the rotation down the stretch.
"We fell one game short, and that was tough, losing in Atlanta that final day. But it was a great experience, pitching in 15 games down the stretch, games that all mattered.
"It was cool and I am excited to get down to Florida, to compete and get ready to take a spot."
A two-way player for the 2010 Knights following his freshman season at Oregon State, Boyd hit .196 (10-51) with a homer and seven RBIs in 23 games as a position player, and was 0-1, 1.55 in 14 games as a pitcher, with four saves and 33 strikeouts in 29 innings.
He was honorable-mention all-WCL pick, and ranked as the league's No. 22 pro prospect by Perfect Game.
Boyd was 22-5 with a 2.13 ERA in 101 games at OSU from 2010 through 2013. Primarily a reliever his first three years, he became OSU's Friday-night starter as a senior and earned All-American honors by going 11-4 with a 2.04 ERA.
He helped lead OSU to a Pacific-12 Conference championship and a berth in the College World Series, where he shut out Indiana 1-0 in his lone starting appearance in Omaha. He finished his college career with eight saves and 216 strikeouts in 258.1 innings.
Boyd signed with Toronto shortly after being selected in the sixth round of the 2013 draft, and moved quickly through their farm system en route to the majors, with stops at Lansing (A Midwest, 2013); Dunedin (A Florida State, 2013-2014); New Hampshire (AA Eastern, 2013-2014) and Buffalo (AAA International, 2014-2015).
He has been shuttled between Detroit and triple-A Toledo (International) since being acquired by the Tigers on July 30, 2015, in a trade-deadline deal for David Price. He was Detroit's final cut in spring training in 2016, but eventually spent most of last season in the majors.
Boyd started 18 of the 20 games he played in in 2016, and was 6-5 with a 4.53 ERA and 82 strikeouts in 97.1 innings. He is 7-11, 5.64 in two MLB seasons with the Tigers and Blue Jays, with 125 strikeouts in 154.2 innings.
He has started 48 of his 53 career games, and is willing to work in the rotation or out of the bullpen if that helps the Tigers compete with Cleveland and Kansas City in the ultra-competitive American League Central division.
"I'm ready to do whatever I need to do to help us win a World Series," he said. "We have a special club, a lot of awesome veterans and awesome young guys.
"We have the potential to really click as a team, so whatever I can do to help, I'll do."
Boyd said Tigers standout pitcher Jason Verlander has been a great resource and has been very instrumental in him becoming a successful major-leaguer.
"He's the man, he's the man. He will be a Hall of Famer," Boyd said of his mentor. "The way he goes about his business every day, he's a true professional.
"I've learned so much from him. He's sort of taken me under his wing, and has helped me out in every aspect, from breaking down hitters or helping me in-game with what he sees" from the dugout.
"He's smart. If he ever wants to coach, he'll be great, because he knows how to handle guys. He's solid, and much of my success is due to him helping me make adjustments on the fly, and in-between starts."
The Tigers open their Grapefruit League season on Feb. 24 against the Baltimore Orioles. Their season opener is April 3 against the Chicago White Sox at Guaranteed Rate Field in Chicago; their home opener is April 7 against Boston.
He plans to be on the 25-man MLB roster on opening day.
"You just go out and compete," he said. "You don't really know what's going to happen; they might have their minds made up, they might have your ticket already booked later in the month.
"That's just the way it is. You do not know, and you do not really think about it. You just go play the game, put your head down, work hard and get outs.
"You get outs and somebody will give you a job."