Former Knights Broadcaster Jason Schwartz Makes Corvallis Visit.
March 25, 2017
Veteran Play-by-Play Man to Start Sixth Season in Lancaster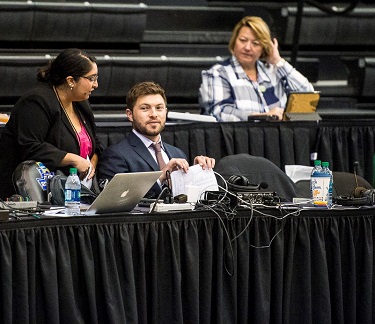 Former Corvallis Knights play-by-play broadcaster Jason Schwartz (pictured at Gill Coliseum) will start his sixth year with the Lancaster JetHawks when the team opens its California League season against Antelope Valley on April 4.
Were he a player, another season at the Class A level at 28 years of age would be a definite indication that a major-league career just wasn't in the cards, that it might be time to consider a new profession.
In the broadcast world, however, the University of Southern California graduate and nine-year professional veteran is still a prospect, with loads of potential and a promising future.
"It's great," Schwartz recounted on a recent visit to Corvallis, where he called Long Beach State's 56-55 loss to Oregon State in the first round of the NCAA Women's Basketball Tournament as the play-by-play voice of the visiting 49ers.
"I'm calling baseball at a higher level. The games mean more. And doing 140 games a year, every year, makes me better," he said.
"The experience has been great. I'm moving up the ladder in broadcasting, going from the West Coast League (2009-10) to the Northwest League (2011) to the California League.
"I'm from Los Angeles, so Lancaster is just an hour from home. I was willing to go anywhere to work - I came up to the Northwest for three straight years - but now it's nice to be close to home.
"My family and friends can come out to the games see me. It keeps me close to Los Angeles, where I can network and build some relationships with people in the industry, and work at moving on to that next step.
The JetHawks are in their second year as an affiliate of the Colorado Rockies. For his first four years there, they were part of the Houston organization.
"I've see some really great players come through Lancaster, [such as] Carlos Correa, Alex Bregman, George Springer, Lance McCullers and Marc Appel," in the loaded Houston farm system, Schwartz said. "The experience working with them, and watching them on a day-to-day basis, has made me better as a broadcaster."
Schwartz also reconnected with his host family, Tom and Peggy Loveday, during his visit. He lived with them in 2010, when he joined the Knights as Mike Parker's sidekick after spending 2009 with the Wenatchee AppleSox.
He worked for the Tri-City (Wash.) Dust Devils in 2011 before returning to Southern California for the Lancaster gig. During the offseason he worked with the USC men's and women's basketball teams in 2012-13 and with the Long Beach State men's program in 2014 and 2015 before shifting over to the women's team for the 2015-16 season.
"I take my basketball play-by-play just as seriously as my baseball broadcasting," he said. "I want to be a sports broadcaster, not just a baseball broadcaster. It has never, ever been just baseball, starting when I was back at USC" broadcasting football, basketball, volleyball and whatever else arose.
"I would love to be in a position where I can work for a baseball team during baseball season and then move on and do basketball and football. I want to be someone who can work in broadcasting year-round."
Schwartz interviewed for the No. 2 spot on the Milwaukee Brewers broadcast team several years ago but came in second. He said he's had "a few" other opportunities, but jobs are very hard to come by, even at the minor-league level, because the business is so competitive and turnover is minimal.
"People don't leave those jobs," he said. "Dave Niehaus was with the Mariners forever, Rick Rizzs is still there and I'm sure [Niehaus successor] Alex Goldschmidt will hold onto that job for as long as he can.
"Look at Los Angeles, where Vin Scully was there for 67 years. You just have to wait. It's timing. People tell me every year, 'We like your work, you do a good job. How have you not moved on yet?'
"There just haven't been any jobs to apply for. I've gotten close to getting to where I want to be, and that keeps my motivation level high.
"It is in front of me, I just have to keep grinding. You just have to wait, continue to work, get better and be ready to take advantage when the opportunity does come up."