Corvallis Knights Couple to Begin Exciting (and Documented) Baseball Journey.
February 22, 2017
Nick and Korrin Torres to Star in The Baseball Gypsy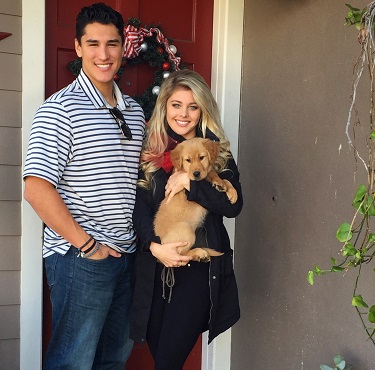 Have you ever wondered what it's like to be a professional baseball player? If so, you will for sure want to follow Knights alum Nick Torres of the San Diego Padres as he begins his 2017 baseball experience with his wife Korrin Torres, also know as the Baseball Gypsy, by his side.
Korrin will be documenting their journey together from beginning to end. It should be an interesting ride, and unique glimpse into the lifestyle of a minor league player from a perspective that's behind the scenes and captured by an enthusiastic and supportive spouse.
We encourage all our fans to catch the very first episode of The Baseball Gypsy by clicking here; and to follow The Baseball Gypsy all season on Facebook, Instagram and Twitter.
Nick and Korrin are newlyweds. They were married last November. In March, they are excited to head to Spring Training as Nick chases his big league dreams - starting in Peoria, Arizona.
Following his freshman season at Cal Poly in 2012, Nick played for the Corvallis Knights where he hit .286 with a team-high 15 doubles in West Coast League regular-season action. He was a leader in the clubhouse and led the Knights to the WCL Championship Series vs. Wenatchee.
Korrin, an OSU student at the time, was the team's video intern and excelled in her role.
The rest in history.
Nick, a fourth-round pick by San Diego in 2014, was the organization's Player of the Year in 2015. The slugging outfielder finished last season in AAA El Paso.
We caught up recently with Nick and Korrin. See our interview below. We thank them for their time and wish them the very best this season. And of course, we hope their journey finds the Torres family back in San Diego (their off-season home), specifically Petco Park, this summer.
KNIGHTS: What inspired you to introduce The Baseball Gypsy?
KORRIN: There were a lot of things that lead to this. A few weeks ago it all clicked and The Baseball Gypsy was born. With my background, I have fallen in love with story-telling through editing. I knew I wanted to continue to edit as well as stay in the baseball environment but as a newlywed being apart again for another season was weighing heavy on my heart. Traveling together has never been an option because I always thought it meant I would have to give up what I have worked so hard for. When the idea of vlogging came about I had a light bulb moment of being able to continue doing what I love while being able to go wherever this crazy life takes Nick. I also loved the idea of being able to tell a story of a couple going through the minor leagues and visually be able to show people what the lifestyle is like. My hope is through The Baseball Gypsy I can bring to light how bittersweet this journey is.
KNIGHTS: Is there an end date for season one? And how many YouTube videos do you think you will post a week?
KORRIN: There is no end date because just like baseball, it never ends! Last year Nick only had two months off because he played in the Instructional League and then the Arizona Fall League immediately following the regular season. There is also Winter Ball and mini camps that a lot of players partake in during the off-season as well. You never really know what is going to happen and that is part of the beauty of The Baseball Gypsy. No matter what happens, I will be able to take everyone on this wild ride. My goal is to be posting 3 videos a week but I might exceed that with everything we have planned.
KNIGHTS: Where and how did you and Nick meet?
KORRIN: Nick and I met over four years ago in Corvallis, Oregon. To this day we still call it the best summer of our lives. Nick was playing for the Corvallis Knights and I was an intern doing media for the team. That summer forever changed our lives as a couple and as individuals. The Knights sparked a fire in us to pursue our careers with a new found passion. Luckily that path was side by side and four years later we were saying "I do".
KNIGHTS: Along the way, do you anticipate featuring special guests on your program?
KORRIN: Absolutely! I have sat down with a lot of baseball wives, even women that went through this same lifestyle 30 years ago. The stories are amazing and I truly believe they need to be told. I also have a few other ideas that will hopefully bring some fun faces to The Baseball Gypsy. It is important to me that people know that our journey is one in a million. There are SO many other baseball gypsy's out there that have been doing this for years, and many with children. I would love to have as many special guests as possible!
KNIGHTS: How are you delivering content and how will you promote The Baseball Gypsy?
KORRIN: YouTube will be the main source of content. This is where I will be posting all of the videos I film and edit. The Baseball Gypsy also has an Instagram, Facebook page and Twitter but everything will point to the YouTube channel. I am hopeful people will really engage in what we are doing by asking questions as well as requesting to see certain things about the lifestyle they are interested in knowing more about.
KNIGHTS: Where do you think the journey will start this season, Nick? Where did you train this off-season and how did that go?
NICK: The journey begins in Peoria, Arizona where I'll be gearing up for the season ahead. From there we will probably head to El Paso, Texas but nothing is ever certain in the baseball industry. My hope is to just go wherever the organization assigns me and to focus on my work there until something changes. This off-season I worked out at a gym called EM speed and power training in San Diego. It went extremely well; there are batting cages, a lot of open space and everything one would need in the weight room. There are dozens of professional athletes that cycle through there throughout the off-season so it breeds intensity and competition. I was able to gain quickness and mobility as well as put on size and strength. I really enjoyed training there and look forward to doing so again in the future.
KNIGHTS: Tell us more about your Scout, your new puppy.
NICK: Scout is our beautiful new golden retriever. I have never had my own dog before and she is more than I could have asked for. She is incredibly smart and well mannered which is uncharacteristic for a such a young pup. Not only that, but she has handled the constant moving and commotion of our crazy and hectic lifestyle so well. Korrin and I love her and are so excited that she will be along with us throughout this journey. She is even getting popular on social media. We have only had her Instagram for 2 months and it is about to hit 10 thousand followers! (@lifeofscout_) We are currently training her to be a therapy dog and she will be working closely with Korrin this season with a few charities.
KNIGHTS: Do you shoot everything on your own, Korrin? Are you the writer, videographer and producer - all in one? Tell us more how you are going make all this happen.
KORRIN: Right now I do everything, yes. All of the filming, editing, producing and managing all of the social media pages. I feel like I was born for this! Working at Fox Sports gave me a lot of the tools I am now using to pursue this but there is, and will always be, a learning curve. For me that is part of the fun. I have a set schedule of what I'm shooting, when I'm editing, when I'm posting and then one of the most important things; responding to people that engage. It makes for long days but it is so gratifying for me. I genuinely enjoy what I'm doing. Being able to travel and meet new people is a dream!
KNIGHTS: What's on tap for the next episode?
KORRIN: I have a few things coming up that are in the works. We are currently living in San Diego but we have to be in Arizona by March 4th for Spring Training so the countdown is officially on! We are only bringing what we can fit in the car for the next 6 month so I am excited to post a video about how we are making that happen as well as a few videos about things in San Diego that we will miss.
Make sure to follow Nick's progress on The Baseball Gypsy. It should be lots of fun.
Below are The Baseball Gypsy and Scout's Social Media handles:
YouTube: The Baseball Gypsy
Instagram: @thebaseballgypsy
Facebook: @thebaseballgypsy
Twitter: @thebaseballgyps
Instagram: @lifeofscout_
Facebook: @lifeofscout