Josh Osich Named #2 WCCBL Prospect by Baseball America
October 16, 2008
Four Knights Make Top Ten List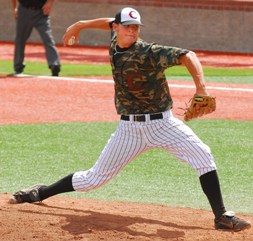 Baseball America named Corvallis Knights' southpaw Josh Osich its #2 West Coast League prospect. Osich was the first full-time baseball player chosen as Jake Locker of University of Washington was rated the league's #1 prospect.
Locker is the starting quarterback for the Huskies and does not play college baseball.
Osich blossomed this past summer posting a 5-0 record and 1.96 ERA while striking 52 and walking 14 over 46 innings pitched.
Osich's OSU teammate Taylor Starr (pictured) also had a breakout summer as the freshman from Longview, Washington led the league in saves with 10 and was named the West Coast League's #3 prospect. Both Osich and Starr are entering their sophomore seasons at Oregon State.
Eddie Orozco rebounded nicely following a tough freshman campaign at UC Riverside to earn second-team All-WCCBL honors and be named Baseball America's #8 WCCBL prospect.
Knights' team MVP and first-team All-WCCBLer Alex Burg of Washington State was the league's #10 top prospect as named by Baseball America.
Perfect Game Crosschecker also chose Osich and Starr as its #2 and #3 WCCBL prospects, respectively.
Frosh first baseman Dean Green of Oklahoma State was their #6 pick.
In total, 8 Knights made PGC's list including #11 Eddie Orozco, #12 Alex Burg, #13 Ryan Platt of UC Riverside, #16 Jared Eskew of Cal Poly and #20 Logan Lotti of Oregon State.
Eskew was the West Coast League Pitcher of the Year.
Platt, entering his senior year at UCR, turned in a masterful summer as the right-hander went 3-0 over 9 appearances, 7 starts and 38 2/3 innings pitched. Platt posted a miniscule 0.93 ERA while striking out 50 and holding the opposition to a team low .129 batting average.
To review both the Perfect Game Crosschecker and Baseball America lists, click here.