Five Former Knights Set to Compete in MLB Postseason.
September 29, 2014
Ex-Corvallis Knights Andrew Susac and Matt Duffy of San Francisco Play Wednesday at Pittsburgh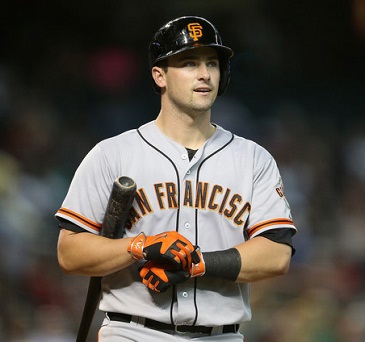 Five former Knights will be in uniform this week when the Major League baseball playoffs start with the American League and National League wild-card games.
Baltimore starting pitcher Bud Norris (2005) will get the ball at some point during the AL East-champion-Orioles' AL Divisional Series against Detroit. It starts Thursday at Camden Yards.
San Francisco catcher Andrew Susac (pictured), middle infielder Matt Duffy (2010) and the rest of the Giants will face catcher Chris Stewart (2001), infielder Brent Morel (2006-07) and the rest of the Pirates on Wednesday at PNC Park in Pittsburgh in the NL wild card game. The victor will advance to face Washington in an NL Divisional Series showdown, starting on Friday.
A former Cal Poly star who was first-team all-West Coast Collegiate Baseball League in 2005, the 29-year-old Norris bounced back from a mid-season demotion to Bowie of the double-A Eastern League to win a career-high 15 games in his first full-season with the Orioles. He had 139 strikeouts in 165.1 innings over 28 starts, with a career-best 3.65 ERA.
He was 4-0, 2.73 in four starts against the AL East-rival New York Yankees and 9-1 with a 2.91 ERA in 14 starts against all EA East opponents. The Orioles were 13-1 in those games. Norris is 8-2 at Camden Yards, with a 2.44 ERA.
"Everybody talks about the AL East being the division, the best division in baseball, and it elevates my game," Norris told the Baltimore Sun newspaper after defeating the Yankees on Sept. 24 in his final regular-season start.
"I go out there and pitch, and I've learned a lot from the guys here. I'm just going to go out there and compete."
Susac (2009) has had an outstanding rookie season since being recalled from triple-A Fresno on July 26. He hit .273 in 35 games, with three homers and 19 RBIs, the third-most among National League rookies.
"I'm just trying to make the most of the time I get," Susac told the Portland Tribune newspaper, "I didn't think I'd get my chance this soon in my career, especially with the troubles I had my first season," at single-A San Jose.
"But I made good strides in year two and started to become the player I think I can be. I figured I might get a September call-up if I could finish strong in Fresno.
"I think I've opened some eyes here. I'm trying to contribute and help the team win. If I do that, good things will follow. That's my goal right now, to play my heart out and help us any way I can in the playoffs."
Andrew was honorable-mention all-WCL and was named the league's top pro prospect by Baseball America and Perfect Game in 2009, the summer before he entered Oregon State.
A former Long Beach State standout who was second-team all-WCL in 2010, Duffy was recalled from double-A Richmond on Aug. 8 after hitting .332 with 62 RBIs in 97 games and making the Eastern League all-star team. He's made nine starts in 34 games, hit .267 with eight RBIs, and was 6-for-15 (.400) as a pinch-hitter.
"You enjoy stuff like that no matter what, stuff like (Thursday) night," he said, speaking of the team's celebration after the clinched a playoff berth. "But it definitely feels more deserved when you have contributed at some point along the line."
Released by the New York Yankees after the 2013 season, Stewart signed with the Pirates and responded with a career season. The Knights' 2001 MVP out of Riverside City College hit a career-high .294, played his standard outstanding defense, and gave the team a solid backup to starter Russell Martin and a great influence in the clubhouse.
"There's not really too many superstars in here," he said. "Everybody feels like they are a superstar and that's what is different than other places I've been. It's just a lot of fun coming in here every day."
A teammate of Norris's for one season at Cal Poly, Morel hit .179 in 23 games in three separate call-ups with the Pirates. He was recalled on Aug. 30 after a strong season at Indianapolis (.271, 4-53) in the triple-A International League and remained in the majors for the remainder of the season.