Over 200 Campers Attend Free Youth Clinic.
June 29, 2009
Knights and Boys & Girls Clubs Host at Goss Stadium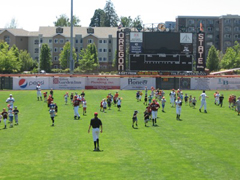 The Corvallis Knights and the Boys & Girls Clubs of Albany, Corvallis and Lebanon hosted a free youth clinic on Saturday, June 27th at Goss Stadium. Over 200 campers attended and enjoyed a day of sunshine and fun.
The camp featured instruction by Knights' players and coaches and was supervised by Knights' skipper Brooke Knight.
Click here to check out Cliff Kirkpatrick's Gazette-Times blog entry "Knights youth clinic".