ZOOperstars! Make Return Appearance, Entertain Crowd of 2,042.
June 23, 2013
Starker Forests FREE Youth Clinic Kicks-Off Memorable Saturday at Goss Stadium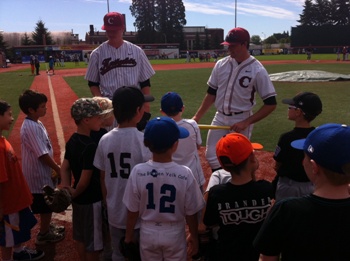 Saturday, June 22 was a day full of fun, sun and lots of activity at Goss Stadium. The Corvallis Knights coaches and players welcomed 165 campers to their annual free youth clinic sponsored by Starker Forests (pictured are Washington State pitcher Jacob Schroeder, left, and Dartmouth outfielder Nick Ruppert, right, instructing campers).
It was a picturesque morning with lots of sunshine and 80 degree temperatures. Girls and boys of all ages enjoyed a range of interactive stations with player instructors until close to noon when the clinic wrapped with a Q&A with the players and camper of the day selections.
That evening, the ZOOperstars! returned to Corvallis and entertained a crowd of 2,042 at Goss on a warm, muggy evening.
The ZOOperstars! introduced Tim Tebull, Rusty Walrus and Yao Flamingo for the first time and brought back popular characters like Harry Canary, Cow Ripken, Jr. and Mackeral Jordan.