Corvallis Knights Interns Rock.
October 21, 2014
Former Knight Intern Leslie Mak Makes Her Mark in Sales Data Analysis at Gallo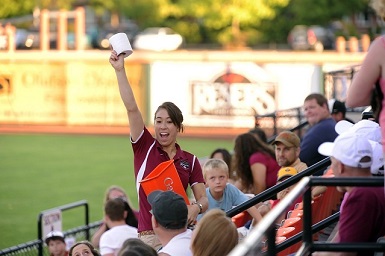 One of the stars of the Corvallis Knights 2011 intern crew has wasted little time in moving up the ladder in the world of private business.
Leslie Mak is making her mark.
A member of the Knights' inaugural group from the Oregon State College of Business, the former gymnastics star is in her third year with the E&J Gallo Winery, which recruited her directly out of OSU.
She began as a sales representative for Southern Wine & Spirits, one of their distributors, shortly after her June, 2012, graduation from OSU. She is now a sales data analyst in Gallo's category management department.
"I do a lot of data analysis, and use a wide variety of tools to find important information for Gallo to use internally and externally," said Mak, a marketing major whose internship concluded when the Knights swept Walla Walla for their second West Coast League championship. "I am also support for our marketing and sales departments."
Mak calls Gallo, the world's largest family-owned winery and the largest exporter of California wine, an "incredible" company.
"Working for a winery has its own perks, such as tastings, samples, employee discounts," she said. "I have access to a lot of advanced data tools and information. I'm always learning something new and am constantly challenged."
Leslie was one of the most accomplished gymnasts in OSU history. She was a five-time NCAA regional champion; a four-time All-American; a four Pac-12 champion; a four-time Pac-12 all-star; a three-time Pac-12 academic all-star, a two-time Pac-12 Gymnast of the Year, and a Pac-12 postgraduate scholarship winner.
Still, she said her internship with the Knights forced her out of her comfort zone and was as challenging as a complicated beam routine. It made her push herself to learn new skills that have helped her meet the challenges of private business.
"Being a Knights' intern helped me be more comfortable in social situations, and forced me to work well under pressure," she said. "I got to interact and work with so many different people, and that helped me develop the skills to be a successful sales rep.
"We also experienced some high-pressure situations that involved critical thinking. That practice helped me once I was in the post-college workforce. I will never forget the lasting relationships I've made from working with the incredible staff.
"Also, seeing how happy the young Knights fans were throughout the game, and particularly at the end when they got to jump on the field and run the bases, is something I'll always remember. The Knights have such a great family atmosphere and make it fun for everyone!"
Her future career path is undecided, but she plans to stay in the wine business for the time being.
"People in my current position usually end up being a wine category manager/analyst for big grocery or drug chain, or even restaurant chain, where they represent Gallo and partner with a chain to grow their wine category," she said.