Five Knights Named South Division All-Stars.
July 15, 2013
Barker, Choate, Drake, Lenahan and Lund to Play in July 23 Mid-Summer Classic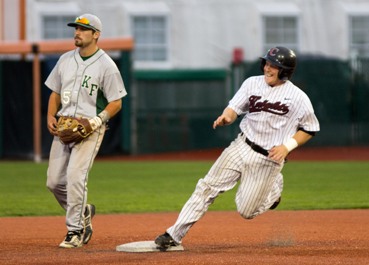 Corvallis catcher Dane Lund (pictured) and four teammates have been selected to play for the South Division team in the 2013 West Coast League All-Star Game, scheduled for 7 p.m. June 23 at Royal Athletic Park in Victoria, British Columbia.
Left-handed pitcher Devon Barker was named to the team on Friday by a fan vote. Joining him on Monday were Lund, center fielder Blake Drake, third baseman Cody Lenahan and right-handed reliever Brandon Choate.
Twenty-four players from each division were selected by fan voting, recommendations from Major League scouts, and the league's 11 coaches. Ed Knaggs of the defending champion Wenatchee AppleSox will coach the South Division team; Dennis Rogers of the host HarbourCats will coach the North team.
A senior-to-be who played at San Jose State in 2013, Lund ranks sixth in the WCL with a .354 average, with no homers and 11 RBIs in 29 games heading into Monday night's game at Bellingham. A rising junior at Portland, Lenahan is hitting .282 in 29 games, with one homer and 13 RBIs. A rising junior at Concordia, Drake is hitting .301 in 30 games, with a homer, 21 RBIs and 13 stolen bases.
A redshirt junior-to-be at Central Washington, Barker is 2-1 with a 4.02 ERA in seven games, with 20 strikeouts in 31.1 innings. He earned WCL Player of the Week honors earlier this season for a near no-hitter at Cowlitz.
A junior-to-be at Washington who played at Tacoma CC the past two seasons, Choate is 1-1 with a 0.61 ERA in 12 games, with two saves and 14 strikeouts in 12.1 innings.
Hall of Fame executive Pat Gillick will be the guest speaker at the All-Star Game Kickoff Event on Monday, July 22. A Home Run Derby will precede the game the following night.
The complete teams can be found on the WCL website.