Corvallis Signs Four Rising Beavers.
October 10, 2014
Freshmen Outfielder Elliott Cary, Infielder Christian Donahue, Catcher KJ Harrison to Join Returnee Third Baseman Jackson Soto on Knights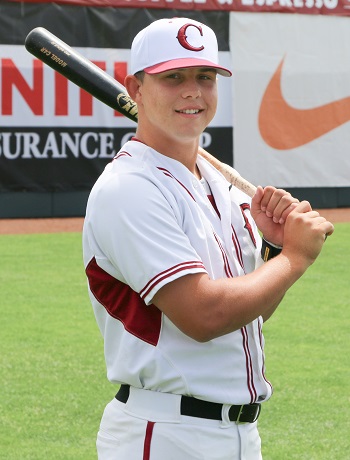 The Corvallis Knights have signed Oregon State's top freshmen position players for the 2015 season, including hard-hitting returnee Jackson Soto of Albany (pictured).
The future Knights are Soto, a third baseman who earned a full-time position with the Knights last summer after graduating from West Albany High School; center fielder Elliott Cary, a Clackamas High grad who was the 2014 Oregon Gatorade Player of the Year, and middle infielder Christian Donahue and catcher KJ Harrison, two of Hawaii's premier 2014 high school seniors.
"The Knights are definitely getting the cream of the crop as far as what we expect out of these guys as freshmen," said OSU assistant coach Andy Jenkins, a Knights' alum (2002-2004) who also was a Corvallis assistant coach in 2012.
"It should be a great summer for the Knights. They are going to fit in just fine, and they will be some of the most talented freshmen in the league. They should hit in the middle of the lineup and play in the middle of the field for the Knights, for sure."
A 6-foot-2, 210-pound left-handed hitter, Soto played for the Knights in 2014 following his senior year at WAHS and hit .245 (37-151) in 50 games, with no homers and 23 RBIs. He was honorable-mention all-WCL and led all West Coast League third basemen in fielding percentage. Soto also earned Mid-Willamette Conference all-league and 5A all-star honors and earned MVP honors in the Reser's Oregon All-Star Series in 2014.
"I had a great experience this past summer and I'm excited to come back, especially with three other guys from the team," Soto said. "KJ and Christian are my roommates and Elliott played at Cowlitz last year so I've talked to them about [the team] a lot.
"They know Corvallis is definitely one of the better places in the WCL."
Soto said the best thing about his first summer with the Knights was just hanging out with his teammates, and being challenged to improve his own game against better players.
"It was fairly rough in the beginning," he said. "I'd been in that kind of competition before, just not every single day. The every-single-day part of it, at the beginning, was kind of rough. But once I got into the swing of things and adjusted, it was a good summer, a good learning experience."
Jenkins said last summer was just a preview of what Soto can accomplish with more experience, maturation and exposure to even better opposition.
"Jackson will be more in-tune with the college game and the attention to detail," after a year with the Beavers, he said. I like to think he'll be a better hitter, a better defender, a better baserunner, and do some things he couldn't do as a high-school player."
Cary played for the WCL's Cowlitz Black Bears in 2014 after graduating from Clackamas High School and rebuffing professional overtures from the Washington Nationals, who chose him in the 32nd round of the 2014 MLB draft as the 964th overall pick. A left-handed batter, he hit .190 (15-79) in 25 games for the Black Bears, with four RBIs.
"I'm really excited," he said. "I got to play against the Knights [with Cowlitz]; obviously they play on the best field in the WCL, you get to hang around the greatest campus in the country the whole time and get to work out with one of the greatest strength coaches the whole time.
"It's going to be good, playing with three of my freshmen teammates. [Soto] told me it's a great experience, a great way to get used to Pac-12. He said he loved playing here, and being around the coaches.
"It's obviously a completely different game than high school. But I think going into this summer after a whole year of Pac-12 baseball will be a completely different experience," and he'll fare much better than he did with the Black Bears.
"You are talking about a really athletic kid who needs to learn the game more," Jenkins said of Cary. "He's going through that process now. As far as athletic ability and upside, his is tremendous. It's just a process."
Cary was Oregon 2014 Gatorade Player of the Year and the Three Rivers League Player of the Year after hitting .522 for Clackamas, with 22 RBIs and 25 stolen bases. He moved to Oregon from Niceville, Fla., for his senior season after committing to OSU. His father, Chuck, is a former major-league pitcher.
Donahue is a 5-10, 170-pound switch-hitting middle infielder from Mililani, who attended the Iolani School. A three-year letterman, he was honorable mention all-league and third-team all-state honoree as a junior after batting .395 with eight doubles, two triples, three home runs, 16 RBIs and 10 steals. Christian played in the 2008 Little League World Series.
Another Hawaiian, Harrison is 5-11, 180-pound catcher who can also play first base. Selected in the 25th round by Cleveland in 2014 as the 758th overall pick, he was a three-year letterman at the Punahou School in Honolulu. He was first-team all-league and honorable mention all-state as a sophomore and junior, and honorable-mention all-league as a freshman.
"Donahue and K.J. have a chance to play for us a lot," Jenkins said. "Donahue can play short stop and second, he's a team guy, he can bunt and run. He's really the complete player, with really good makeup.
"K.J. is kind of like Cary; big upside, a big-time bat. He's a good catcher who needs to learn more," as a probable understudy to 2014 Knight Logan Ice.
"He can also play first base. K.J.'s bat is going to get him in there right away."