Stro Strohmeyer Named Staff Member of the Year.
October 30, 2008
Strohmeyer's Intern Team Shines for Knights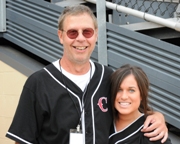 Corvallis Knights team president Dan Segel named Stro Strohmeyer the club's 2008 Staff Member of the Year. Strohmeyer (pictured with intern Jaimie Van Vleet) has worked with the team since its inaugural season in Corvallis.
Stro, the Knights' Director of Ballpark Operations, is responsible for recruiting, hiring and managing the team's intern staff. He also manages merchandising sales and is in charge of the club's event management team.
"I'm a baseball guy and I liken Stro's intern team as chalk full of prospects, that were not only talented, but were performers," said Segel. "The interns made Goss a special place this past summer. They were awesome, fun and good kids.
"I credit Stro for keeping this group focused and energized, and for recruiting a star-studded team. He deserves this honor on so many levels."
Knights' intern Holly Jones was the club's inaugural Staff Member of the Year. Holly, a three-year Knight, currently works for the NBA in Manhattan, New York.
"Making this selection was a challenge as Stro wasn't the only serious candidate. Bre Kerkvleit has done great things for us and just keeps getting better and Bill Kerr, who was the Gresham Mountaineers general manager, was very deserving and so was Brian Brooks and Mike Parker," said Segel.
"But Stro built a championship team in his first year in the position and showed great passion and energy during both the off-season and summer."
Kerkvliet, the team's assistant to the president the past two years, is considering a new role with the team in 2009.
Kerr has been the general manager of the Gresham Mountaineers the past two summers, the Knights' affiliate team that produced such key 2008 contributors as Bryant Kraus of University of Portland and DJ Johnson of Mt. Hood CC.
Brian Brooks handles the club's advertising and is also the team's public address announcer and music master.
Mike Parker is the voice of the Knights and broadcast nearly every game this past season on KTHH 990 AM The Legend.
Strohmeyer is busy this off-season evaluating new students and recruiting returnees such as Marisa Gorman, Megan Murphy, Drew Olson and Jaimie Van Vleet.
The interns are responsible for entertaining fans, customer service and keeping Goss Stadium clean and comfortable.