Ex-Knight Chris Stewart of the Yankees Makes Great Catch & Throw vs. Red Sox.
July 21, 2013
Earns ESPN Sportscenter #1 Top Ten Play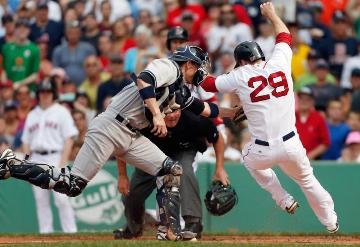 Knights' alum Chris Stewart of the New York Yankees (pictured tagging out Daniel Nava of Boston) made a great catch in the stands yesterday versus the Boston Red Sox at Fenway Park on a Dustin Pedroia pop up before a national TV audience on FOX. He then turned without hesitation and threw out Daniel Nava at second base trying to advance on the play to turn the unusual doubleplay.
The play was featured on ESPN Sportcenter's Top Ten Plays and was rated the #1 play on Saturday.
Stewart's gem was extra special as it ended the eighth-inning with Sox slugger David Ortiz on deck. New York went on to win 4-2.
Chris called his special day unconventional in today's New York Post.
To check out Stewart's amazing play, click here.
Chris Stewart played for the Knights in the summer of 2001 following his freshman season at Riverside CC. He was drafted in June in the 12th round by the Chicago White Sox and would sign with Chicago following an MVP season with the Knights.
This past January, Stewart visited Corvallis and Goss Stadium as a special guest of the Knights and was the team's featured speaker at its second annual Hot Stove Night in the Omaha Club Room.
Stew is currently the starting catcher for the Yankees and is hitting .239 with 3 HR. New York plays Boston again tonight on national TV on ESPN at 5 pm pdt.
Fox commentator Tim McCarver called Stewart's play unbelievable and the best defensive play by a catcher he's ever seen. That's high praise coming from McCarver who caught in the big leagues from 1959-1980 and was a key contributor on the 1964 and 1967 St. Louis Cardinals World Series champion teams.