Knights Deliver Memorable First-Half Performance.
July 14, 2009
Highlights Include Record 18-Game Win Streak and #3 National Ranking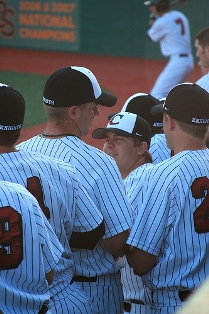 It was a record setting first-half for the Corvallis Knights that wrapped with star shortstop Richie Jimenez of Riverside CC being named West Coast League Player of the Week for July 6-12.
After starting the season 3-3, the team ripped off 18 straight wins, a franchise best, including running the table over the longest homestand in team history - sixteen consecutive games at Goss from June 18th through July 3rd.
The sweet sixteener concluded before a record crowd of 3,506, shattering the West Coast League single-game attendance mark set by Bend this season.
The team is currently on its first extended road trip, which opened with a 5-4 loss at Bend, snapping the club's 18-game win streak, but the road didn't deter the Knights from their winning ways as Corvallis swept Kelowna and took two of three at Wenatchee to capture their eighth WCL series win of the season.
Corvallis had won 24 of 25 following its Saturday night 3-1 win at Wenatchee.
The Knights lead the West Coast League in hitting with a .296 team batting average, defense with a .979 team fielding percentage and pitching with a league-low team ERA of 2.31.
The club's 27-5 overall mark and 21-5 league record has drawn national attention as Corvallis was ranked #3 in a summer college baseball poll released Wednesday, July 15 by Perfect Game Crosschecker.
"I can't recall a run like this," said team president Dan Segel. "We've played exceptional defense, pitched very well and exceeded all expectations offensively.
"The team has really gelled and the credit goes to the coaches and returning players for creating a competitive and close-knit environment. The chemistry is really good.
"We're not taking anything for granted, the guys are really enjoying this special time.
"We all know it's not how you start, it's how you finish.
"This group is competitive, it's a mature club. They won't be satisfied with anything less than playing for another championship in mid-August," said Segel. "They want rings."
MID-SEASON REPORT BY POSITION
Starting Pitching
Matt Andriese (4-0, 0.60) of UC Riverside has been dominant. It appears the Redlands, California native might break ex-Knights' ace Tommy Hanson's single-season ERA record of 0.92. Over 30 innings pitched, Andriese has struck out 29 and only walked 3. Hanson, a rookie star for the Atlanta Braves, also hailed from Redlands. The rotation has been solid and turned in 20 straight quality starts from June 13-July 3. Second-team All-Big West pitcher Dustin Emmons of UC Riverside has taken a liking to his starting role this summer (after relieving in the spring) and is 4-0 with a 1.33 ERA. Steve Kalush of Santa Clara started the season as the team's closer, but has been brilliant in his recent two starts and may finish the summer in the rotation. Kalush has not allowed an earned run over 19 2/3 innings pitched and is 2-0 with 4 saves. Frosh All-American Sam Gaviglio (1-0, 0.00) of Oregon State is out indefinitely with arm pain. Sam was masterful in his two starts, pitching 13 innings without giving up a single run. Frosh Kyle Kraus of University of Portland leads the team in starts with 6 and innings pitched with 38 2/3 and is 4-0 with a 3.03 ERA. The Knights hope the fifth and sixth spots in the rotation are filled in the second-half by Eddie Orozco of UC Riverside and James Nygren (2-0, 2.21) of Oregon State. Orozco was nurtured early in the season as he only pitched one inning this spring due to injury and Nygren has been battling lower back pain and has missed his last two starts. Eddie has been sharp in his five appearances and made his first start at Kelowna last Tuesday. Tyler Anderson of University of Oregon might also secure a starting role. The frosh southpaw is working his way towards more innings after not pitching for over a month.
Bullpen
Co-closers Liam Baron of Linn-Benton CC and Steve Kalush are nine-for-nine in save opportunities. Baron may take over the closer role as the southpaw from Perth, Australia collected three road saves last week and Kalush has been masterful in his two starts. Liam leads the team in appearances with 15 and saves with 5 and is tied for the team lead in strikeouts with Andriese with 29. Baron's college teammate, right-hander Trevor Smith, has pitched very well in both middle relief and as a starter. Smith has made 10 appearances and 3 starts and is 5-0 with a 2.43 ERA. Drew Leary (0-1, 1.35), a senior-to be at San Diego State, has been an effective setup man.
Catching
Corvallis features two above average defensive catchers in rising star Andrew Susac, a frosh-to be at OSU, and veteran Rocky Gale, a senior-to be at University of Portland. Susac has thrown out 7-of-12 would-be base stealers (.417 SBA) and picked off three runners. Gale, a three-year starter with the Pilots and returnee from the 2007 team, calls a great game and also controls the running game. Susac (.250, 2, 10) has shown some pop at the plate blasting two solo home runs. Gale is hitting .300.
Infield
The Knights infield features three returnees that play the best defense in the West Coast League. All three were named second-team All-West Coast League last summer. Steady, and sometimes spectacular, second baseman Josh Hogan, a senior-to be at Oregon, shortstop Richie Jimenez, a junior-to be at UNLV, and third baseman Doug Cherry, a senior-to be at University of Washington, are setting the tone for the Knights. Hogan has flashed a golden glove posting a 1.000 fielding percentage (71 assists) and he leads the team in stolen bases with 9. Jimenez leads the West Coast League in hitting with a .447 batting average and in hits with 38, and his fielding percentage is an impressive .952. Cherry has 54 assists and is fielding at a .978 clip while hitting .271 with 6 doubles and 5 stolen bases.
First Base
Three Knights have manned first base this summer and delivered significant offensive production while playing solid defense. Taylor Ard (.403, 3, 25), a soph-to be at Oregon State, was leading the team in hitting, HR and RBI when he was sidelined with an ankle injury on Thursday, July 2. The right-handed hitting slugger is expected back soon. DJ Johnson, a junior-to be at Western Oregon, has been the hottest Knight at the plate on the team's current road trip. The sweet swinging left-handed hitter from Beaverton, Oregon went 10-for-18 vs. Kelowna and Wenatchee and is now hitting .340 with 4 doubles and 8 RBI. Two-way player Dylan Jones, a junior-to be at Oregon State, has filled in at first base while also playing the outfield and pitching. Jones leads the team in at bats with 115 and is hitting .304 with 4 doubles, a homer and 18 RBI.
Outfield
Returnee Billy Clontz of Western Oregon, centerfielder Pat Colwell of San Diego State and frosh Brent Warren of Oregon State are covering lots of ground and also leading the way offensively for the Knights. Clontz leads the team in runs scored with 26 and is second on the club in stolen bases with 6 and RBI with 19. Colwell, the team's best defensive outfielder, is hitting .295 with 6 doubles, 18 RBI and 5 stolen bases. Warren is hitting .288 with 17 RBI and a team-leading 3 triples. Left-handed hitting John Desmarais (.250) of Washington State adds speed to the outfield and recent sign DJ Gentile of Cal Poly adds a right-handed bat with power.