Eight Corvallis Knights Named All-WCL.
August 24, 2009
6 Knights Earn First-Team Honors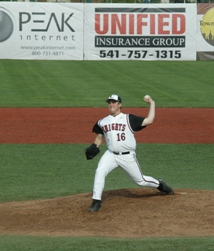 The Corvallis Knights were the most represented West Coast League club with eight players named All-WCL.
Earning first-team honors for Corvallis were first baseman Taylor Ard of Mt. Hood CC, shortstop Richie Jimenez of Riverside CC, third baseman Doug Cherry of University of Washington, starting pitcher Kyle Kraus of University of Portland, starting pitcher Matt Andriese of UC Riverside and relief pitcher Liam Baron (pictured) of Linn-Benton CC.
Outfielder Pat Colwell of San Diego State and pitcher Steve Kalush of Santa Clara were named second-team All-WCL.
Six Knights earned honorable mention including second baseman Josh Hogan of Oregon, catcher Andrew Susac of Jesuit High School in Sacramento, utility man Billy Clontz of Western Oregon, closer Drew Leary of San Diego State, starter Eddie Orozco of UC Riverside and outfielder Brent Warren of Oregon State.
Corvallis set a new league wins record in 2009 by collecting 38 WCL victories. And the Knights set two new franchise streak records by winning 18 straight and 22 in a row at home.
The Knights also set new club total (30,064), per game (911) and single-game (3,506) attendance marks. The team's July 3rd crowd of 3,506 broke the league's single-game attendance record.
The Knights' 38-10 WCL mark was the league's best and Corvallis led the league in pitching (2.22), fielding (.975) and hitting (.279).
Corvallis finished the season ranked #8 by Perfect Game Crosschecker.