Catcher Alex Burg of WSU Named Team MVP.
September 2, 2008
Berger of SDSU Named Top Pitcher, Cherry of UW is Joe Segel Hustle Award Recipient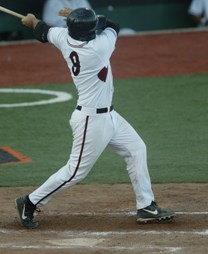 Team president Dan Segel announced on Tuesday, September 2 that senior-to be catcher Alex Burg (pictured) of Washington State was named the Knights' 2008 team MVP as voted on by team coaches, Segel and co-founder Joe Segel. Other team honors announced were Top Pitcher and the Joe Segel Hustle Award.
Right-hander Jon Berger of San Diego State was voted the team's Top Pitcher and infielder Doug Cherry of University of Washington was the unanimous choice to receive the 2008 Joe Segel Hustle Award.
Burg was the leader of arguably the best Knights' club in team history that set a WCCBL record for wins with 31 and captured a league title. He masterfully managed a young staff that posted the league's lowest ERA at 2.32. Burg also tied for the team lead in doubles with 12 and slowed down opponent running games as Alex threw out 21 of 44 would-be base stealers.
Berger was also a team leader and led the Knights in starts with 10, innings pitched with 62 2/3 and strikeouts with 59 while walking only 9. The senior-to be from Las Vegas went 4-0 and posted a 1.87 ERA. Several Corvallis pitchers were deserving including WCCBL Pitcher of the Year Jared Eskew (4-0, 0.99) of Cal Poly, Ryan Platt (3-0, 0.93) of UC Riverside and Josh Osich (5-0, 1.96) and Taylor Starr (2.49, 10 saves) of Oregon State.
Cherry thrilled fans with his hustle on defense and on the bases. Doug started 44 games, led the team in hits with 55 and stole 10 bases. His fielding percentage was an impressive .964. He made a habit of turning in the spectacular defensive play and was an adept bunter and slider.
Cherry, a fan favorite, is expected back in 2009.
For the second consecutive season, the Knights top two honors were earned by players from Washington State and San Diego State as first baseman Jim Murphy of Wazzou was the Knights' 2007 MVP and Aztecs' right-hander J.R. Murphy was the Knights' 2007 Top Pitcher.
Both Jim and J.R. played professionally this past summer with Philadelphia and Colorado, respectively. Jim hit .355 with 2 HR and 17 RBI in the Gulf Coast League before getting promoted to Clearwater in the Florida State League and then to Williamsport at the end of the season in the New York-Penn League. J.R went 1-3 with a 3.78 ERA for Tri-City of the Northwest League. Murphy struck out 45 over 21 appearances and 33 1/3 innings pitched.