Knights Announce All-Time Teams.
June 22, 2009
20th-Anniverary All-Collegiate and All-Semi Pro Players Recognized at Saturday, June 20th Game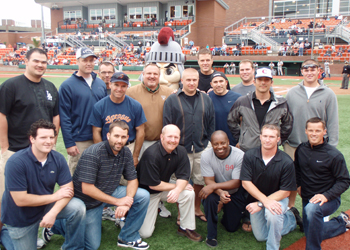 Knights Baseball Club announced its 20th-anniversary all-time collegiate and all-time semi pro teams (see below) at the Corvallis Knights Saturday, June 20th home game vs. the Bellingham Bells at Goss Stadium. The teams featured collegiate stars from the past 10 years and semi-pro stars from the club's first 10 years.
Several of the all-timers were recognized in a pre-game ceremony. The honorees are pictured from left to right: (top row) Travis Wong, Doug Nichols, Randy Rutschman, John Sipple, George Ross, Jeff Post, Don Nichols, Rich Sermone, Joel Marick, Brett Smith, Taylor Starr and (bottom row) Joe Gerber, Mike Gits, Dan Segel, Tony Fair, Aaron Coiteux and Jeff Moore.
20th-Anniversary All-Collegiate Team
OF- Kaeo Rubin (Washington State)
OF- Jared Prince (Washington State)
OF- Wally Crancer (Georgia Tech)
3B- Andy Jenkins (Oregon State)
SS- Eddie Cornejo (Oklahoma)
2B- John Otness (Washington)
1B- Jim Murphy (Washington State)
C- Chris Stewart (Riverside CC)
UTL - Aaron Coiteux (Concordia)
DH- Travis Wong (Texas A&M)
SP- Tommy Hanson (Riverside CC)
SP- Kyle Parker (Washington)
SP- Nate Fogle (Oregon State)
SP- Josh Osich (Oregon State)
SP- Bud Norris (Cal Poly)
RP- Taylor Starr (Oregon State)
Field Manager- Geoff Loomis
Assistant Coach- Randy Rutschman
Assistant- Dale Stebbins
Trainer- Joel Marick
20th-Anniversary All-Semi-Pro Team
OF- Tony Fair (Portland State)
OF- Rich Sermone (Portland State)
OF- Jeff Moore (Oregon State)
3B- Rod Scheckla (Oregon State)
SS- Randy Johnson (Portland State)
2B- Geoff Loomis (Portland)
1B- Joe Gerber (Oregon State)
C- Brett Smith (Western Oregon)
UTL- Dan Segel (Northwest Missouri State)
DH- George Ross (Aloha High School)
SP- Don Nichols (Portland State)
SP- Jeff Post (Oregon State)
SP- Doug Nichols (Lewis & Clark College)
SP- John Sipple (Oregon State)
SP- Greg Williams (Portland State)
RP- Mike Gits (Western Oregon)