Future Knights Hecht, Duffin Get Sneak Preview of Goss Stadium.
May 30, 2013
UC Santa Barbara Freshmen in Corvallis for NCAA Regional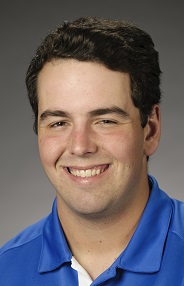 Future Corvallis Knights Dylan Hecht and Joe Duffin (pictured) got a sneak preview of their summer baseball destination on Thursday afternoon when UC Santa Barbara practiced at Goss Stadium in preparation for this weekend's NCAA Corvallis Regional.
The Gauchos, who tied for second place in the Big West Conference this spring, face Texas A&M at noon Friday in their tournament opener. They're the No. 3 seed in the regional, which also features host and top-seeded Oregon State and No. 4 seed Texas-San Antonio.
A 6-foot-1, 190-pound freshman right-handed pitcher from Pleasanton, Calif., Hecht is UCSB's lights-out closer. He had eight saves, a 1.93 ERA and 42 strikeouts in only 32.2 innings in 27 appearances.
A 6-1, 235-pound freshman from Santa Ana, Calif., Duffin is an outfielder who had just nine at-bats in 11 games.
They'll return to Corvallis on a full-time basis sometime in June, depending on how far the Gauchos advance in the NCAA tournament. And both will have an improvement plan when they do.
"I need to work on my fastball and changeup location," said Hecht, who on Wednesday was named a second-team Big West Conference all-star. "Those are the two main goals I have, to hone those pitches down and complement that with my slider."
Duffin wants to improve his defense, and become more consistent offensively with increased playing time.
"Especially going opposite," he elaborated. "I've been working on my own but I just need a lot more time."
Teammate Greg Mahle, the Knights' 2012 MVP as a left-handed pitcher/first baseman/DH, has given Hecht and Duffin a primer on what to expect this summer. Mahle was the first Gaucho to play for the Knights under their new partnership with the program, whose coaches (Andrew Checketts, Eddie Cornejo, Jason Hawkins) all formerly played or coached for the Knights.
"Greg said there's a great atmosphere, the fans are awesome, and that it's just a great experience playing in the West Coast League," Duffin said.
Added Hecht: "Greg said it's a good place to have fun, and to come out and do your thing," baseball wise. "I'm really excited."
Both are eager to play in a wood-bat league for the first time in their fledgling careers.
Hecht said pitching may be easier because wood bats have smaller sweet spots, and perhaps not as much pop, as their aluminum counterparts.
"But I don't see a huge difference," he said. "You still have to throw strikes and get outs."
Duffin often hits with a wood bat, so he may skip the difficult adjustment period some players experience when they store their college bats for the summer.
"I hit with a wood bat my senior year in high school, and have been hitting with wood for as long as I remember," he said. "I think I'm more consistent and have a better plan when I'm hitting with wood, so I'm really excited to do that."
Neither player wished to toot his own horn when asked what Knights fans can expect from him this summer.
"I don't want to hype myself," Hecht said.
But they did analyze each other. And it sounds as if the Knights will get two more solid contributors to add to the legacy established by Mahle and previous Knights standouts from fellow Big West programs/Knights partner schools Cal Poly and UC Riverside.
"You'll see shut-down pitching from Dylan," Duffin said. "He's very hard to hit, and he's not intimidated by anyone. He'll either be the back of the bullpen or a great starter for us."
Hecht said Duffin should provide the power quotient that the Knights missed last summer, when they a meager five homers in 54 WCL games.
"He's going to work on making contact consistently," Hecht said of Duffin. "I think you'll see a lot of power from Joe, a lot of long balls, definitely."