All-WCL Infielder Marc Gallegos to Return in 2013.
October 1, 2012
Greg Mahle of UCSB Named Knights' MVP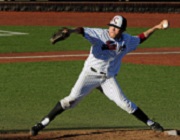 Infielder Marc Gallegos of Corban University will return in 2013 for his second season with the Knights.
A sophomore from Astoria who played shortstop and second base, Gallegos hit .309 in 52 games, with no homers, 19 RBIs and a team-record 25 stolen bases. Originally a 10-day signee, he earned a full-time position and eventually led the Knights in runs (36) and hits (58), and was second-team all-West Coast League.
Gallegos hit .346, with 26 RBIs and 33 steals, at Corban in 2012 and was an NAIA West first-team all-star selection, and an NAIA West Gold Glove selection.
Team honors announced
Pitcher/1B/DH Greg Mahle of UC Santa Barbara (pictured above, pitching during his no-hitter against Cowlitz) was named the Knights Most Outstanding Player for 2012 in a vote of the coaches. He led the Knights with a .337 average and was 3-1, 2.54 as a pitcher, with three saves and the first nine-inning no-hitter in Corvallis Knights history.
Rob Dittrick of Pacific University was named the Most Valuable Pitcher. He was 5-1, 0.95 overall and led the WCL with a 1.10 ERA in league games. Another 10-day signee, he led the team in wins (5), innings (57) and strikeouts (33).
Catcher/infielder Chris Rabago of UC Irvine earned the Joe Segel Hustle Award, given to the player who best exemplifies the spirit of the Knights. Segel is the team's co-founder.