Knights Run Win Streak to 13.
June 29, 2009
Matt Andriese of UC Riverside Named WCL Player of the Week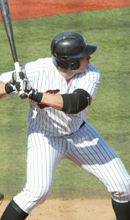 The Corvallis Knights extended its win streak to 13 games on Sunday, June 28 by beating Moses Lake 5-3. The 13-game win streak is a franchise best.
As of June 28, 2009, Corvallis was tied for the league lead in hitting with a .286 team batting average and led the league in defense with a .982 team fielding percentage. The Knights' staff ERA of 2.62 also is a league best.
The streak has featured three shutouts, eight league wins (two on the road and six at home) and five non-league victories (all at home).
The team's early season success has also featured two West Coast League Player of the Week honors.
On Monday, June 29, WCL President Ken Wilson announced that Corvallis right-hander Matt Andriese of UC Riverside was named WCL Player of the Week for June 22-28. Andriese tossed a three-hit shutout vs. Moses Lake at Goss Stadium on Friday, June 26. The frosh from Redlands, California, the hometown of ex-Knight Tommy Hanson of the Atlanta Braves, struck out 9 Pirates and did not walk a single batter.
Matt is 2-0 on the young season and has posted a miniscule 0.53 ERA and held the opposition to a paltry .118 batting average while walking only two and striking out 14 over 17 innings pitched.
Knights' first baseman Taylor Ard (pictured) was named the WCL Player of the Week for the first week of the season. Ard, a sophomore-to be at Oregon State, leads the Knights in batting average (.383), home runs (3) and RBI (21).