Knights Break West Coast League Single-Game Attendance Mark.
July 6, 2009
Crowd of 3,506 Packs Goss Stadium on July 3rd Fireworks Night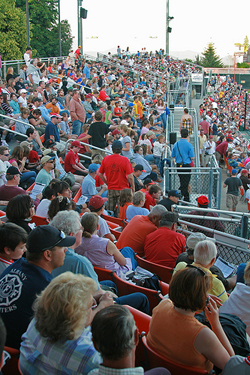 On a festive night at the ballpark, 3,506 fans packed Goss Stadium to set a new West Coast League single-game attendance record. The old mark was set by Bend this season as 2,679 fans attended the Elks' home opener.
Knights' fans enjoyed a great game, a beautiful summer evening and a spectacular post-game fireworks show.
The record crowd witnessed the Knights' record-setting 18th straight win, a 9-2 victory over division rival Bend, and a monster home run by first baseman Dylan Jones that careened off the netting protecting the park's video scoreboard.
The standing room only crowd gave Jones a standing ovation as he touched home plate.
"The electricity at the park was amazing," said team president Dan Segel. "This is a night we'll never forget."
"We thank everyone for coming out, and for helping us set a pretty cool record.
"The crowd was much bigger than we could have ever imagined, and we apologize for any inconvenience caused by long lines.
"I can assure fans we will be better prepared next time with alternative food kiosks in the park and possibly food stands in the plaza to better accommodate our customers for events like this," said Segel.
With the huge crowd, the Knights average attendance shot up to 790. In total, 15,027 fans have attended Knights games this summer with 11 regular season home games remaining.
Corvallis drew an average of 640 fans last summer and an average of 439 in the team's inaugural season at Goss Stadium.
Fireworks on and off the field for Knights by Brooks Hatch, Gazette-Times reporter