Atlanta Names ex-Knight Minor League Pitcher of the Year.
October 16, 2008
Tommy Hanson Continues to Shine for Braves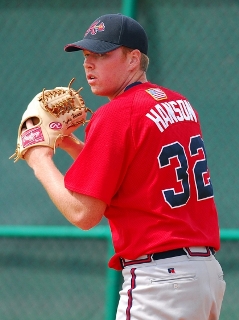 Former Knights' hurler Tommy Hanson (Riverside CC) was named the Atlanta Braves Pitcher of the Year. The right-hander from Redlands, California was also named to Baseball America's 2008 Minor League Team of the Year.
Hanson starred for the 2005 Aloha Knights where he set several records and collected numerous honors. Tommy was named WCCBL Pitcher of the Year and First-Team Summer College All-America by Baseball America.
Affectionately nicknamed the Hibernator, Hanson still holds the Knights' single-season ERA (0.92), innings pitched (78) and strikeouts (116) records.
Tommy was honored by the Braves on September 20th prior to their game versus the New York Mets. Hanson began the 2008 season at Class A, but was promoted to AA Mississippi Braves after posting a 3-1 record and 0.90 ERA in 7 games at Class A Myrtle Beach.
It didn't take long for Hanson, 22, to make his mark at the AA level, pitching a no-hitter on June 25th against Birmingham (White Sox). In that game, he struck out 14 (but did not strikeout ex-Knight Robby Hudson of the Barons) and walked three.
Hanson finished the season 8-4 with a 3.03 ERA with Mississippi.
In total, he posted a 2.41 ERA, 12th best in the minors. He also held opponents to a .175 batting average (lowest in the minors) and had 10.6 strikeouts be nine innings.
Tommy's 163 strikeouts this season were fourth best among minor-league pitchers.
Another ex-Knight who turned in a memorable pro season was Darin Holcomb (Gonzaga) of the Asheville Tourists (affiliate of the Colorado Rockies).
Holcomb was named the 2008 South Atlantic League MVP.
Darin tore up Low A pitching, hitting .314 with 13 home runs and 93 RBI.
The third baseman from Spokane, Washington played with Tommy Hanson on the 2005 Aloha Knights.
After the summer season, Hanson was sent to pitch in the prestigious Arizona Fall League, where he is already exceling, while Holcomb was shipped off to Honolulu to play in the Hawaii Winter Baseball League.
Yet another alum that shined brightly this past summer was Marc Rzepczynski of UC Riverside. Zep pitched for the Knights in 2006 and earned second-team All-WCCBL honors.
The Toronto Blue Jays announced on September 30th that the southpaw pitcher was named the Lansing Lugnuts (Midwest League, Low A) Most Valuable Player.
Rzepczynski finished seventh in the league in ERA (2.83) and went 7-6 with 124 strikeouts over 121 innings pitched.