Daimler Trucks North America Signs On as Oregon All-Star Series Title Sponsor.
March 13, 2017
Daimler All-Star Series Set for June 24-24 at OSU's Goss Stadium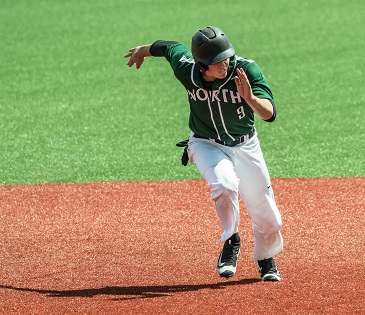 The Oregon All-Star Series introduced a new title sponsor today - Daimler Trucks North America - as announced by Knights Baseball Club, Inc. CEO and Oregon All-Star Series Director Dan Segel.
Hosted and operated by Knights Baseball Club, Inc., the Oregon All-Star Series features the state's top 5A/6A senior high school baseball players in a season-ending three-game series at Oregon State's Goss Stadium at Coleman Field.
"We are thrilled to partner with Daimler," said 6A Oregon All-Star Series Coordinator Jake Anders. "They have an extraordinary track record of supporting amateur athletics in the state.
"Speaking on behalf of the Oregon High School Baseball Coaches Association, we are thankful for their involvement and enthused about the future of this event."
This summer, the now Daimler All-Star Series - scheduled for June 24-25 - will celebrate its 7th year in Corvallis while Daimler Trucks North America celebrates over 70 years based in Oregon by bolstering its dedication to bettering its communities.
"Daimler Trucks North America (DTNA) is proud to partner with the Oregon High School Baseball Coaches Association and Corvallis Knights to present the Daimler All-Star Series," said David Giroux, Director of Corporate Communications and Corporate Marketing for Daimler Trucks North America.
"DTNA has been an Oregon resident for over 70 years, and we are committed to our communities. That's why in addition to producing the most fuel efficient commercial vehicles on the road, we also partner with organizations that recognize the importance of education and athletics. We are pleased to announce our multi-year commitment with the Oregon All-Star Series to help foster and promote Oregon high school sports and education. This sponsorship joins DTNA's robust program of Oregon sports partnerships, including the Trail Blazers, Timbers, Oregon State University Beavers and the University of Oregon Ducks.
"We are excited about this opportunity to support athletics, education, and the environment in our home state; the All-Star Series is a 'home run' for us."
Then called the State-Metro Series, the series thrived in The Dalles from 1971 through 2007 at Quinton Street Ball Park where future big leaguers like Danny Ainge, Darwin Barney, Scott Brosius, Cole Gillespie, Kevin Gregg, John Jaha, Dale Murphy and Harold Reynolds showcased their skills in front of enthusiastic crowds and where coaches and scouts gathered to watch baseball and share stories.
Since moving to Corvallis, rising prospects like North Eugene's Andrew Moore of the Seattle Mariners and Southridge's Jace Fry of the Chicago White Sox have shined in the Oregon All-Star Series before good crowds at arguably the Pac-12's finest ballpark - Goss Stadium.
"We look forward to working with Daimler to deliver rewarding experiences," said Dan Segel. "We're definitely feeling lucky to not only showcase Oregon's top seniors and a great company like Daimler, but to also celebrate our 7th year in Corvallis and 70 years of Daimler making a positive difference in the Beaver state.
"While we are super excited about the upcoming series, looking back, we are forever grateful for Reser's Fine Foods support over the past six years. Thanks to their commitment, we've been able to build something special here."
The opening game of the 2017 Daimler All-Star Series is set for Saturday, June 24. First pitch is slated for 2:30 pm. The series concludes on Sunday, June 25th with a doubleheader starting at 10 am.
Nike Team Sports, an inaugural sponsor, is the official supplier of uniforms, apparel and headwear for the Daimler All-Star Series.
For more information about the Daimler Oregon All-Star Series, please visit: www.oregonallstarseries.com.
About the Oregon All-Star Series
The Oregon High School Baseball All-Star Series showcases the top senior players from the state's 5A and 6A classifications over a set of games held each third or fourth weekend in June. The All-Star Series thrived in The Dalles for decades (1971-2007) as the State-Metro Series and celebrated its 50th anniversary in its last year at Quinton Street Ball Park in The Dalles. Bend hosted the 5A Series in 2008 and 2009 while the 6A Series was held in McMinnville those same years before the two classifications combined to play a 5A/6A All-Star Series last year in McMinnville. The Oregon High School Baseball Coaches Association moved the series to Corvallis in 2011. Reser's Fine Foods was the title sponsor from 2011-2016.
About Daimler Trucks North America
Daimler Trucks North America LLC, headquartered in Portland, Oregon, is the leading heavy-duty truck manufacturer in North America. Daimler Trucks North America produces and markets commercial vehicles under the Freightliner, Western Star and Thomas Built Buses nameplates. Daimler Trucks North America is a Daimler company, the world's leading commercial vehicle manufacturer. For more info on Daimler Trucks North America, visit: daimler-trucksnorthamerica.com.